Welcome to Etsy Resolution. Learn how to start your shop in four emails, plus get expert advice and feedback.
If someone is new to selling online or dream of starting their own Etsy shop, Etsy Resolution is their guide this new year. Starting their own business might seem daunting, but Etsy Resolution makes it simple and fun (and is free!)
Four simple instructional emails that will outline how to open their shop, from finding inspiration to making their product look pretty.
Get the support of a community of peers while they create their shops together.
Successful Etsy sellers will mentor and guide them through each lesson.
This year there are three skilled mentors to help them make the most of 2017: Maryanne Moodie , Katherine Dorrington, and Rian Chan.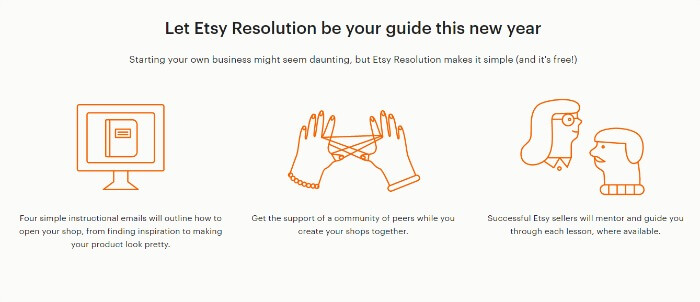 In just a few quick steps, you can start selling your own handmade creations, vintage finds or craft supplies to a marketplace of more than 24 million shoppers around the world. And we'll walk you through the process in four simple emails, starting on 30th January.