If you've decided you want to use your skills and experience to teach others, one of the best ways to do that is by creating an online course. However it can sometimes be a bit overwhelming to decide how to start. An online course platform is a tool that helps you build your online course, host it, and market it to your customers.
An online course platform can be a simple, less technical way for you to create your online course. A good online course platform will do it all, host your course, allow you to create your sales page and easily let your students purchase your course. It should also allow you to link up with your email marketing to capture those leads and keep in contact with your students.
There are so many online course platforms available now that you may find yourself completely overwhelmed and thinking of giving up before you've even begun. But each platform is slightly different, and if you can work out which one is best for your needs, then you will have a long and happy relationship with your course creator.
Here at Work At Home Mums we've created three online courses and have done lots of research on which course creator platforms are out there and their features. To help save you the stress of doing the same, here is our guide to some of the online course platforms, with a special emphasis on the features you might need if your are creating your course from Australia (or another international country), rather than the USA.
Comparison of Online Course Platforms
Any prices listed are correct at time of publication and are in USD. Please check the relevant websites for up to date pricing and annual costs, which are sometimes cheaper.
CourseCraft
Thinkific
Teachable
Kajabi
Ruzuku
Free Plan
14 Day Free Trial
14 Day Free Trial
14 Day Free Trial
Paid Plan levels
(per month)
Club $29
Society $59
Basic $39
Pro $79
Basic $29
Pro $99
Basic $149
Growth $199
Pro $399
Bootstrapper $99
Up and Comer $149
University $199
Unlimited Courses
On paid plans
Unlimited Students
On paid plans
Instant Payments
Link Own Payment Providers
Only on Pro plan
Can Choose Currency
Yes, but converts
to USD
Coupons
On paid plans
Upsells / Add Ons
On paid plans
Connect With Email
Marketing Programs
On paid plans
Only MailChimp
Affiliates
On Society plan
On paid plans
On Pro plan
On Growth plan
No Transaction Fees
On Society plan
On Pro plan
The Best Online Course Platforms for Australia
Online course platforms are not created equal. Some are created to target the corporate and internal training market and will not be any use to you the individual creating and selling a course.
Choosing a course platform can come down to just choosing the features that best suit your needs. Most have a free plan or trial and so if you can't decide then it is best to choose the two you think will be best for you and try them out. You can then see which one you like better.
CourseCraft
What We love

Easy to use


Can link your own payment providers


Instant payments


Has a free plan
What We Don't

Only 2GB Uploads on the free plan
CourseCraft is the platform I have chosen to use for our online courses. The main reason for this is the ability to link our own payment providers (PayPal and Stripe) rather than a platforms provider which means we get paid straight away. Much better for cash flow.
They use a simple editor where you can add videos, audio, images or text. You can add upsells, downloadable files, embed and even get your students to do short quizzes or assignments. It is easy to get your head around the editor as you create each individual lesson and put those lessons into groups.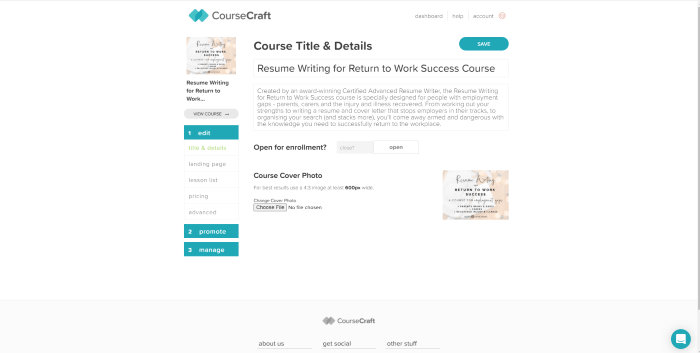 Landing pages use the same editor and again you can add videos, images and text as well as an FAQ, testimonials and table of contents. Pricing can be changed to your local currency (and will not be converted back to US$ before you get paid) and you can put it as a one time payment and a payment plan. You can also have add-ons and extras to upsell with your course.
CourseCraft can sync with mailing list providers allowing you to market to your students after they've enrolled. It also has the capacity to give a lesson for free so you can put them on your email list to follow up later. You can create discounts and promotional codes allowing you to market your course.
You can have multiple courses as part of you plan. However the free plan only gives you access to 2GB of uploads so if you are doing a lot of videos as part of your course, you may find you run out of space quickly. Its great if you only have a small course though.
If you're interested in affiliates for your course, then you can manage and pay them though CourseCraft, but you need to be on their highest plan (US$59 / month).
I actually tried Teachable first, and although I liked the platform the payment options for someone outside the USA were woeful. When I found CourseCraft had a similar platform with the ability to link our own providers and get paid straight away in our own currency it was a simple decision to switch. I've been using it for 5 months now and I really haven't found anything to dislike or wish the platform could do.
If you'd like to try CourseCraft you can learn more about the features and pricing here.
Thinkific
What We love

Easy to use


No Thinkific transaction fees


Has a free plan


Can link your own payment providers

What We Don't

Limited features on the free plan


Need the Pro plan for upsells

Thinkific is another great online course platform. Like Coursecraft it allow you to link your own Stripe and PayPal accounts to accept payments which means you have access to the money instantly. It is an easy to use platform and similar to WordPress in some regards when creating pages and content.
Thinkific has a free plan but it is limited. You can create up to three courses (unlimited on any paid plan) and brand all of your pages etc, but you cannot link any 3rd party integration such as email marketing software, offer coupons or add-ons.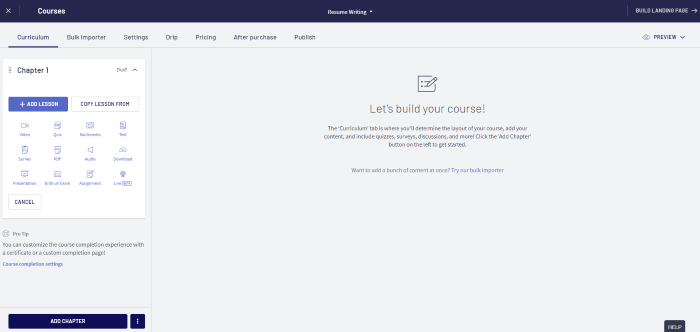 You can get most things you will need on their basic plan (US$49 per month) such as quizzes, surveys, coupons, email marketing and even affiliates. But if you want add-ons, bundles, memberships or a community you will need to go for their pro plan (US$99 per month).
The ability to link your own payment providers allows you to receive money easily and charge prices in any currency. You do have to choose one though, and that will be the default currency for all of your courses. You must have a Stripe or PayPal account to accept payments for your course.
If you are a lover of using Shopify for your website then Thinkific may be the platform for you as it integrates with Shopify through a Shopify App. You can then sell your course alongside other products. That's kind of a cool feature.
I actually quite like this platform. You can start on the free plan while you get your course up and running and it gives a good amount of features and value on their basic plan, which I think you would have to go onto to get any meaningful marketing done. Its fairly easy to use and get used to and offers quite a lot of customisation and branding. It's a shame you have to go onto the pro plan to get things like upsells or payment plans, which could really help your conversions, but depending on your course cost, it may be worth upgrading to the higher plan anyway.
If you'd like to try Thinkific you can see all the features and sign up to a free plan here.
Teachable
What We love

Easy to use


Customisable checkout and other pages


Lots of 3rd party integrations
What We Don't

Long payouts


No longer has free plan

Teachable is the platform I went for when we started our first online course. I still like the platform – it's very user friendly and easy to add the curriculum, create your sales page and you can even customise your checkout and thank you pages. As a student it is also good to use so it's very easy to look professional when teaching a course.
You used to be able to join on a free plan, with a limited number of students allowed to sign up, however they have now got rid of that and instead they have a 14 day free trial of their pro plan. This trial would be enough to play around the platform as long as you already have your course content ready.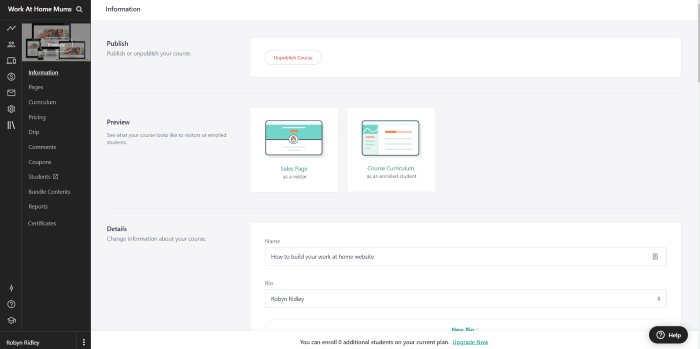 So if I liked the platform so much, why did we switch? Well the answer to that came in the way they take payments and pay you. Teachable has their own payment gateway if your live in the USA, Canada, UK or Germany. This means you can get payouts when you choose, even daily. However if you happen to live outside those countries, you are on what they call the monthly payment gateway and you will only be paid once a month via PayPal. Add to the fact that Teachable has a 30 day refund policy so they don't payout until the 1st of the month, the month after the 30 days has past. So if you make a sale anytime in January you won't receive the payment until the 1st of March.
The other rather large issue I had with Teachable is selling a course that wasn't in USD. Teachable does give you the option of selling your course in the currency you want (great), however they then convert that payment to USD (not so great). You then have to wait the time for your payout and they pay you to your PayPal account in USD. This causes the issue of multiple currency exchanges and due to the time lag between your student paying and you getting the money you could be out of pocket due to exchange rates.
You can get around the payments issue by choosing to connect your own gateways (either Stripe or Paypal) however Teachable will not let you do that unless you are on their Pro Plan which is $99 USD per month. If you are on one of there lower plans it is not an option.
If you're planning on offering your courses in USD, or aren't worried about needing to go to a higher plan for the ability to use your own payment gateways, then Teachable is a very good platform. If you'd like to look around you can get a free trial here.
Kajabi
What We love

Email functionality


All in one system


Can use different templates
What We Don't

Quite expensive


No affiliates until higher level plan

Kajabi is more of a one stop shop system. It is designed to be your website, course creator, membership site and email platform all in one. Because of this it is a bit more customisable as a whole with the ability to change the way your site looks with other templates.
Because Kajabi tries to do a bit of everything I think it would be great for coaches or mentors that want to have an online course component or membership as part of their offering. It integrates with Zoom for live webinars and video conferences as well as great video integration with Wistia. If you're wanting to create something really visual and be able to keep in contact with your clients over web conference, this is definitely a platform you should look at.
The downside is that Kajabi is quite expensive compared to other online course platforms. The prices start at US$149 per month ($119/mth if you pay annually) but it does include things like it's own email platform so there is at least one extra subscription you don't need to pay for. However if you're just looking for a place to host an online course without all the bells and whistles then there are cheaper options that would work just as well for that ability. They also do not offer an affiliate program until the mid level plan which is US$199 per month. Affiliate programs are a great marketing tool to get your course out there so it's a shame that more providers don't offer it until much higher priced plans.
Due to Kajabi trying to cover multiple facets of website design, course creation and email marketing it can also be a bit more confusing to use and takes a bit of time to get your head around. I'm not sure Kajabi is the right tool for someone just wanting a single online course but if you are wanting to run a full coaching program or ongoing membership base, then take a look at Kajabi. They have a 14-day free trial however unlike most other platform trials you need to enter your payment details so make sure if you're not going to use it that you cancel before the 14 days are up.
Ruzuku
What We love

Fairly easy to use


Can link your own payment providers


No limits on course or students numbers
What We Don't

More expensive than some others


Doesn't have integrated affiliate capabilities

Ruzuku is another simple, fairly easy to use platform. It is a bit more expensive than some of the other platforms, starting at US$99 per month however there are no restrictions on the amount of course content or students you can have for any of it's levels. You can take payment through your own payment providers (PayPal and Stripe) so you can receive the money instantly. Ruzuku also doesn't charge any transaction fees so you only pay what your payment provider charges.
If you want webinars or payment plans, then you will need to go onto their mid level plan ($149 per month). This also allows you to have quizzes and polls. Like most platforms you have some customisable features such as logo, colours and typography to make your school consistent with your brand.
Ruzuku as a platform does have some limitations, and given they are more expensive than some other providers the limitations they have are glaring. They only allow for mailing list integration with Mailchimp, so if you are with anyone else for your email marketing you would have to import your students manually (rather time consuming). They also have no integrated affiliate capabilities on any of their plans, so if you want to have affiliates for your courses you would have to manually track sales through a discount code.
Ruzuku does seem easy to use as a platform and I have also used it as a student before and it was fairly simple. If you'd like to explore the features and pricing you can do so here.
Other platforms you may want to look at
Pathwright – Plans start at $99 per month. You can integrate with Stripe for payments and have unlimited courses.
Podia – Designed for online courses, digital downloads and membership plans. Also offers it's own email marketing and messaging system. Plans start at $39 per month with a 14 day free trail.
LearnWorlds – Has a few more payment options (Stripe, 2Checkout, PayPal and Shopify) and a lot of third party integrations. Plans start at $29 per month with a $5 fee for each course sold (no charge on higher plans).
Zippy Courses – A course platform and email manager. Prices start at $99 per month.