These days, everyone's looking for a more flexible working life. Mums and dads everywhere would love to spend more time with their family, but this usually comes at a cost of less household income. The ultimate dream therefore, would be to become a work at home mum (WAHM) and be able to earn an income from home while being able to be there for all the kids milestones.
A good way to earn extra money is through a side hustle. A side hustle is something you do to make money outside of your regular job. Most people start a side hustle to get an extra layer of income, or to fulfil a passion while still earning money from a more stable job.
Saving money can be a tough job. While some people just seem to have a knack for it, it can be a whole different ball game for others. Sometimes it just seems like others know how to earn extra and manage their money better too. One trick that people have to earn a little bit more is a side hustle, and a lot of these can be done online after work and on the weekends (and even sometimes while you're at your day job).
The best side hustle ideas
When you begin to look into these modern modes of earning extra cash, you will start to realize that a resourceful person can earn extra through viable sources.
Most side hustles in Australia you can start as a sole trader and will need an Australian Business Number. Just be aware that any income you earn as a sole trader will be added onto your normal job income at tax time and may mean you need to pay extra tax so it's good to put a bit aside from your freelancing income. It's a good idea to speak to an accountant to ensure you set yourself up correctly.
Here are some great side hustle ideas to get you started:
Freelancing
Freelancing involves doing tasks or jobs for clients using your skills and experience. For example if you are a writer, you could hire yourself to small businesses to write their blog posts or website copy.
One of the major attractive points about working as a freelancer is that you use skills you already have to earn money. You can freelance for any job online as long as that position is available, and somebody is willing to hire you. Whether you are a veteran writer, programmer or a web graphic designer, you can find people willing to hire you on a once off basis (or even ongoing as required) to help them do tasks they don't have the skills to do. There are a multitude of freelancing ideas for your side hustle.
If you are going to freelance in the industry you are already working, before you get stated check your employment contract for any restrictions and don't take clients off your existing employer. This will not endear you to you current employer and depending on your contact, you might even find yourself unemployed.
Set up an online store
You can create your own product/s or sell someone else's (know as being a reseller), but either way this can be a good way to make an income, especially if you enjoy dealing with customers. You can use platforms such as eBay and Etsy to create a store, or there are many services now that make starting you own online store so much easier.
There are a few ways you can source products for an online store:
If you are handy or crafty you can make your own products.
Design products and get them manufactured.
Become a reseller and buy products from wholesalers to sell.
Become a dropshipper and sell products from wholesalers (you will need to have a dropshipping arrangement in place with your suppliers.
Create print on demand products and sell those.
Making or manufacturing your own products will generally have the biggest profit margin but to do this you will need skills (to make your own) and or significant amount of money to purchase initial stock. Dropshipping and print on demand are good ideas to look at if you have limited funds and want to try your hand at ecommerce because you only pay for the stock when someone places and order. In this model you also order it from somewhere else and they send it out to your customer, so you don't have to store stock anywhere or worry about finding time to get to the post office.
Whichever model you choose, it is a good idea to come up with a marketing plan to figure out how you are going to get people to come to your store and buy from you.
Without a doubt, Shopify is one of the best services out there for you to get started on your online store, however there are also other good ecommerce services such as WordPress with WooCommerce, BigCommerce, Squarespace, Wix and Square.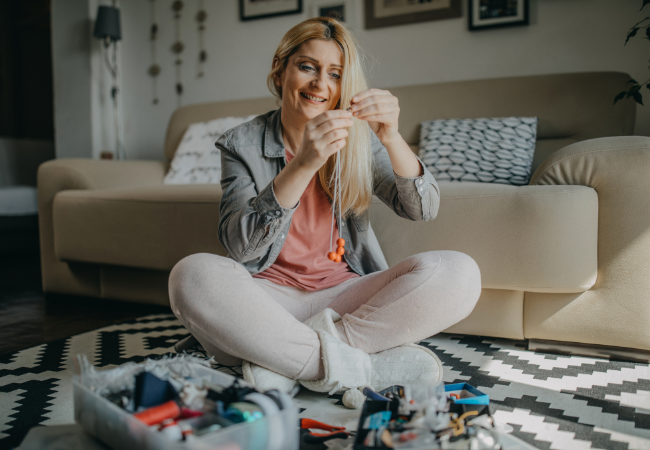 Content Creation
If you enjoy photography, video and audio making or even gaming, content creation might be the side hustle for you.
Photographers can sell photos as stock photos, sell prints in an online store, or by photographing people and products in your spare time. If you love creating videos, start a YouTube channel. If you get enough views, you can make money through advertising. If you don't want to be on camera, start a podcast talking about something you love and are knowledgeable about, or interview others. If you enjoy gaming, many people have a side hustle by videoing themselves playing games and streaming it on sites like Twitch or YouTube.
Content creation can be time consuming but if you combine it with something you would be doing anyway (like playing video games or recording yourself cooking if you love creating recipes on the weekends) then your side hustle becomes an extension of things you already like doing.
Affiliate Marketing
If you have a large following on social media (that is not just your family and friends) or a website with good traffic then you might want to think about affiliate marketing. Affiliate marketing means you've signed up to sell an advertiser's offer on their behalf. You'll direct your traffic to the advertiser, and if a purchase is made or a lead is collected, you'll be paid based on the agreement with that company. It is similar to regular advertising, however you will only get paid if someone buys something from the advertiser.
When you sign up with an affiliate program you will be given a referral link (a unique URL given only to you) or code that will track the traffic you send to the company. You will then receive a commission when someone completes an action – most commonly making a purchase on their site.
This type of arrangement can work well on websites and social media with an engaged following. Affiliate marketing works the best if you know about the product and are authentic in your recommendation. One of the easiest ways to find things to promote is to look at things you are already using and love. If you can't find reference to an affiliate program then google the product/service with 'affiliate program' at the end and see what comes up. If there is still nothing, you can always get in contact and see if they have something in place.
Sell Courses or eBooks
Another great side hustle opportunity for your business is to create courses or eBooks on a topic you're an expert in. Creating and selling content can be profitable, and you can host/house your materials on your own website, or choose a course platform.
Pick something you know and are passionate about. You don't need to be a university professor in your chosen topic, but you need to love it and have experience in it to be able to impart your knowledge.
If you don't want to do a full course, eBooks are a great way of imparting knowledge. EBooks have grown in popularity since things like smartphones and kindle's have made reading on the go so easy. Non-fiction or educational eBooks can be done on any topic and you would be amazed at what people want to learn about.
Create a Blog
Some people just like to talk about stuff they are really interested in. If this is you, creating a blog could be a good side hustle. If you have a topic you love, create a website and start writing about it. Your interest will show through in your writing so if you are just writing for the sake of it rather then the love of the topic, your readers will know.
There are many ways you can build a website for a blog these days. Platforms such as Wix, Blogger, Weebly and Sqarespace are good, but if you want to monetise your blog then it's essential you use something you can customise for advertising such as WordPress. We explain why in how to stat a blog.
Blogs can be monetised by display advertising, affiliate marketing, or pretty much any of the other ways we've talked about in this article. Blogging seems to offer the promise of easy money and being offered free products whilst sitting in your pyjamas at home on a Sunday morning. In practice, it takes time to build up your following and grow your blog. Your blog only becomes valuable when you have a decent amount of traffic, so it can be something to work on as a side hustle until it really gets going so you are not reliant on it for your whole income.
Virtual Assistant
This is a side hustle that can quite often lead to a full time hustle. A virtual assistant (VA) is someone that does specific tasks for businesses or individuals from a remote location. Similar to freelancing, a virtual assistant can do almost any service normal support staff provide.
You can work for one client or multiple clients as a VA and can design your services around what you like to do. For example if you love social media, become a VA that specialises in social media management.
Tutoring
If you are qualified in a subject than tutoring can be a good option. People of all ages from primary school up to University look for help in subject they may be struggling in. This is also a good side hustle option because you can do it after work and on weekends, which is generally when most people have the time to get tutored as well.
The gig economy
Side hustles need to fit in around your regular work hours so what is called the 'gig economy' can be a good option. You can deliver food with companies like Menulog, give people lifts through Uber or even offer basic household tasks on Airtasker (people will even pay you to put together flat pack furniture). You can choose when and how much you work allowing you to make a little bit or a lot through your side hustle.
Side Hustles Final Thoughts
Whether you just want to make a bit of extra money to pay some bills or save up for a big purchase, or you have a burning desire to stat your own business but don't want to go all in just yet (because a regular income is really nice), then starting a side hustle could be for you.
Most side hustles require you to set up a business, even if it is as a sole trade under your name. If this sends you hiding under the table because you don't know where to start, then our blog on setting up a business can help cover the basics.