Starting your own work from home business is not a decision to be taken lightly. It may seem like an easy option but to be honest, working at home is not as easy as it sounds. You have to be financially, emotionally and mentally prepared before you go into it.
Lots of people around the world are deciding to start their own online or home based business. This can be due to a number of reasons such as earning an uncapped income, having a flexible schedule, independence, work life balance, or just having a true passion for the business you want to create.
Not everyone has the guts to make the transition from a corporate job to setting up your own business and before set up begins there are many decisions to be made. So, here are a few tips that should help you on the right track to starting an online or work from home business.
Starting your work at home business
The first decision to be made when embarking on your work at home business journey is whether or not working at home is actually suitable for you. Not everyone can cope with the relative isolation. There are also certain qualities that are required to work at home successfully.
Before deciding which type of business is for you, it is important to consider the following:
Skills – what skills do you have?
Income – what level of income do you need to make?
Personality – are you a self starter? Do you work well on your own?
Time management/organisation – are you organised or do you require support or training with this?
Time – how much time can you devote to your business?
Space – where will you work? How much space will your work at home business require?
Online or offline – do you want to work online or offline?
Legal – are there particular laws relating to use of your premises that will prevent you from undertaking certain types of work?
Quite often women start their work at home career where their previous career ended. Using the skills and knowledge that you have can be an excellent starting point for your new business. For example, graphic designers may start a freelance design business, or bankers could start their own mortgage broking firm.
When deciding to start a business it's important to remember a few key things.
You have to love what you do
A big part of succeeding in one's business is in loving what you do. You must have the passion for it. Passion will motivate you to achieve your goals and objectives and will allow you to remain committed with your business. It is the same feeling that will motivate you to get out of your bed in the morning and do what needs to be done.
Keep it separate
When you work at home, it can sometimes be difficult to draw the line between stuff you have to do in your office and things you have to do inside the house. Set order and discipline and devise a strategy that should keep these two separate at all times.
For instance, even if you have a home-based business, set your work time well. If it's after five, perhaps it's time to call it a day and attend to the home. If it's the weekend, try not to do any work or business related tasks. Schedule deliveries only on weekday mornings, or keep regular business hours for clients. This doesn't mean that those hours need to be 9-5. After all, the whole point of starting your own business might be flexibility, but keep regular hours that suit your circumstances and allow you some separation between work life and family.
If you can't keep work and home tasks separate, you will wear yourself out by spreading yourself too thin.
Expand your network
Most home-based businesses are small-scale ventures but never underestimate its potential to grow. Don't be cooped up in your home, hoping clients and potential business partners will come. Socialize with your friends and see if they can give you business leads. Social networking sites are also a great venue to build your network and a great tool for opening up a new potential market.
Seek help when needed
Birth pains, adjustments and problems are normal when starting a business. If you find that you need some expert advice, tap into your network and don't be embarrassed to ask for help.
How to earn money in a work from home business
A major stumbling block for some people in starting their own business is figuring our how to earn an income. You might have a great idea in your head already, but if not here are some ways to make money in your business.
Running your own e-commerce store
You could start on a site like eBay or Etsy and build your customer base slowly. Sourcing products for your store can be a tricky prospect that takes some ingenuity. You will need to find a wholesaler, distributor or dropshipper that can supply your store at a good enough price to ensure a profit.
If you want to make your own handmade goods a site Etsy is perfect to market your products. There are new global Marketplaces popping up everywhere.
If you want to run your own ecommerce website there is plenty of software like WordPress and Shopify that make running your own website easy.
Do you have a particular skill set that is in demand?
You could work as a freelancer, providing service to clients for a fee and working virtually from your home office.  Companies are always searching for skilled web designers, search engine optimisation specialists and social media marketers.  These technical positions only require a computer and a fast internet connection so working from home is a perfect option.
If you want a few freelancing ideas then head to our blog on the 50 best freelancing ideas.
Do you enjoy writing?
Content writers and copywriters are needed every day to fulfill orders for blogs, websites, and sales copy. It can be a challenging profession as you must work with different personalities on a daily basis, but once you have built a portfolio and a client list, it can be a rewarding career.
Affiliate Marketing
Affiliate marketing is one of the fastest growing business sectors in the world. It offers people the opportunity to promote products on your website or blog for thousands of different companies on the internet. There are many different affiliate marketing companies that have hundreds of retailers to choose from or you can contact a company directly to see if they have a program.
Once you get approved, you will receive your affiliate ID which will be used in your links to their website to show that you promoted their products. When people click on the link and buy something off their website you get a commission, usually a percentage of the purchase price. You can place these links in hundreds of places on the web including your website, emails and social media pages, although some retailers will have special conditions you have to agree to.
There is little to no start-up costs involved in affiliate marketing which makes it an attractive business if you are short on capital.
Direct Sales
Direct sales is another field to consider. This is particularly popular for WAHMs in the U.S.A., Canada, Australia, New Zealand and the U.K. Companies such as Thermomix, Avon and Tupperware hire WAHMs as contractors to sell their products through parties and door to door. You get paid by receiving a commission for everything you sell. This type of work at home job is popular with women who like to socialise and meet new people.
These ideas may seem like they will bring easy money, however each one of them requires its own measure of hard work.
Once you have thought about your knowledge and skills and how you would like to work then you can start to research the types of businesses that are available. Once you have decided on the type of business you think you would like, research the requirements and what it will take to be successful.
Being prepared when starting your home-based business
Starting a home-based business needs careful planning and you really should do a reality check first. Money is perhaps the most important thing you need to start a business. Whether it's a web-based service or a small arts and crafts business, you need to check if you have the money to sustain it.
Some businesses require only a small amount of money to start up and other require much more. It is important to research and plan in the initial stages to ensure success.
Here are some tips to remember before you starting your own home-based business:
Have some emergency savings.
It's helpful to have some emergency funds before you even start a business. This is to ensure that there's something to tide your family over in case you decide to resign from your day job and focus solely on the business.
The amount you need can be dependent on how much of a safety net you want behind you. Some people are happy to have 3 months in an emergency fund and others like to have up to 12 months. To know how much you need to save for an emergency fund, jot down all your monthly expenses like food, bills, credit cards, insurance payments, mortgage payments, gas, daycare, etc. Add these all up and multiply by the number of months you want to have in your emergency fund. The total amount should be your target in saving for your emergency fund.
For some budgeting tips be sure to read how to create and stick to a family budget. Once you have enough saved for your emergency fund, then you can start saving money for your business.
Crunch the numbers.
Any business would require some amount of money and it is your responsibility to determine that. Know how much it would require when applying for business permits, what are the taxes you need to pay, and what type of equipment you need to buy. Would you need an assistant? Find out how much it would cost to hire a part-time or full-time employee. All of these should be taken into consideration.
Come up with a business plan.
A business plan is a document that gives you a clear picture of your business goals and how you are going to achieve these goals. It includes your initial investment capital, the monthly expenses your business would need, and how long before it takes you to break-even and, eventually, earn a profit.
A business plan doesn't have to be like a dissertation paper but remember that this is important to make sure that you keep track of your goals.
If you need help we include a template for a business plan in our Business Startup Toolkit.
Don't quit your job. Not yet, anyway.
Many people make the mistake of quitting their jobs to start their own business, only to realize later on that they haven't fully prepared for it. Starting a home-based business doesn't have to be an all-or-nothing deal. You can still stay in your day job while laying the groundwork.
Instead of quitting altogether, you can polish your arts and crafts skills by doing it on weekends and selling them online. You can also sell your products and services to work colleagues. Think of them as valuable test subjects who can give you great feedback and how to improve your business. You can also use your annual leave to attend classes or seminars.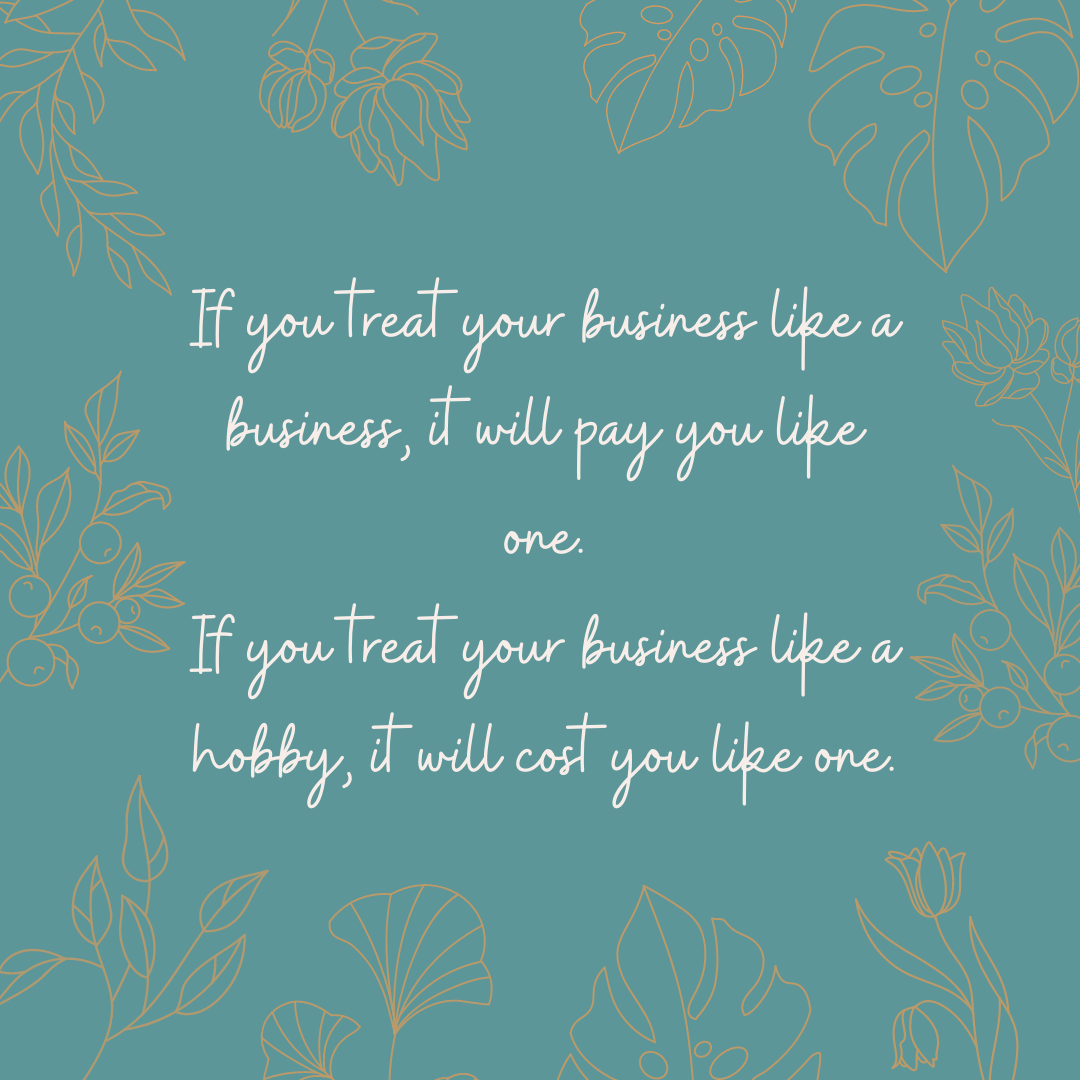 To-Do List for Home Business Success
Choose a really great business name: I know, it's easier said than done with so many names already taken!  In thinking about your business name, you will need to check that no existing businesses already have that name.  To do this, check your suggested name with ASIC  free online business name search  where you can check company and business names right around Australia.  After your check your proposed name on the ASIC search, you will also need to check the trademarks database (again, it's a free online search) here.  You must ensure your proposed business name yields NO conflicting names on both of these searches.
Check that you can secure the domain name for your business:  A web presence is super important this day and age for any business, so you must ensure – once your proposed business name checks out – that you can register the domain name for it.  For .com.au domain names, you can search for availability at Crazy Domains or Go Daddy.
Register your business name: You must do this if you intend to trade with a name other than your legal name, e.g. Sharon Smith.  If you chose to trade as "Sharon Smith Dressmaking", you will need to register your business name. You can get more information about registering a business name This includes guidance on how to get an Australian Business Number (ABN) or apply for a trademark and an outline of our fees. To register your business name, sign up for an ASIC Connect account or log in to an existing account.
Get an ABN for your business: You will need one of these to start trading.  Getting one is super easy – check how to apply for an ABN and what you need to complete as part of registering your business name.
Check with your local council if there are any special rules applying to home businesses: You may need to get approval from your local council if you intend on starting a home-based business, so the best place to look for information is your local council website.  If you don't have clients coming to your home or plan to run an industrial shed or cooking on the premises, it shouldn't be a problem at all.
If you're renting, check that your lease has no limitations applying to running a home business: Provided you don't have clients coming to your house creating issues with traffic, noise and parking, your lease shouldn't be a problem.  Check the details of your lease or consult your property manager.
Check to see if you have any special compliance or insurance obligations:  Depending on your industry, there may be requirements for you to take out professional liability insurance, public liability insurance and adhere to certain legislation pertaining to your industry.  Industry association websites are a great source of information for this sort of thing, as are small business forums.
Create a great image for your business:  Just because you plan to work from home doesn't mean you have to compromise on the professional image of your business.  Invest in professional graphic design and get a logo created by an expert.  Hire a web developer to create a fabulous website and social media presence.  Enlist the help of a professional marketing consultant to help you get the most out of your marketing and hire a copywriter to ensure your marketing and web copy is top notch.  All of this will pay immense dividends for you!
Set clear goals for your business: For many individuals, their goals are so broad that success is something that never happens. Make sure you are setting clear goals for what you want to achieve in your business. Be specific and have a timeline for achieving them. Break down your big business goals into smaller goals that pave the way towards the big goal. Write everything down and hold yourself accountable.
If you're ready to get started on your business, you can read about setting up a business in Australia or Work At Home Mums can help you get started through our course How to Start a Work From Home Business – a step by step guide to getting your business up and running.
How to Build Your Network When You're Just Starting Your Business
Starting a new business can often feel like something you're doing in a vacuum alone. This is most especially true if your business is online, but it can feel like that if you're starting any type of business. But, the truth is, you're never alone – you will just have to seek out relationships and network rather than having them built in for you like they are at a job.
Online Forums – You can meet a lot of interesting people in online forums. Find forums consisting of people you want to start networking with and simply start discussions, answer questions, and be giving. If you find someone you relate to, reach out to them privately.
Mastermind Groups – You can find some awesome groups sometimes called "inner circles" or mastermind groups which involve working with peers to support and learn from each other. Do a simple search on Facebook for your niche or use Google Alerts to help you find a group. You can also ask people you already know if they know of any. Sometimes there is a fee to join the group but consider the fee an investment into your business (and can sometimes be a tax deduction).
Chamber Events – Your local chamber of commerce is a great place to start trying to find networking events to attend. Often you can go to them for an added fee as a non-member before choosing to join. Look for "after hours" events to test out the organisation to help you determine if it is right for you and your business goals.
Industry Associations – If your business is involved with working in a specific field, or niche, look up associations online. There are associations for almost any type of business under the sun, and there is likely one for you. It doesn't matter what type of niche you're in; you can usually find something. Check out the quality of the organisation before joining to ensure it aligns with your values and goals.
Focused Business Events – Starting with a small, focused business event that is limited to just a few people can be helpful in getting your feet wet with larger networking events. Many smaller organizations put on business retreats that are helpful for people who are nervous about larger events.
Meetup Announcements – This is a great way to find local people who want to connect with people like you. If you don't see something that fits your business, why not start your own informal Meetup event? You only need locations that will accommodate your needs and a good idea to attract people.
LinkedIn Connections – Networking online and offline can be accomplished through the connections you make on LinkedIn if you're strategic about who you connect with. Don't connect with those whom you cannot offer anything and who can't offer you anything. Stay focused and remember; "quality over quantity".
Blog Commenters – If you've written a compelling blog post that gets comments that make you curious about the person, check out who made the comments and try to connect with them on social media. Once you have established a relationship, you can reach out to them for other ideas, events, and even joint venture partnerships.
Newsletter/Email List Sign-Ups – People who sign up for your email list or newsletter are prime candidates for networking. Plan a webinar, or even an in-person event, and invite your list members to it. Be sure to have an overall goal and theme for the event, whether online or offline.
Social Media Connections – Anyone you connect with on social media can be a prime candidate for more networking. Just make your networking goal oriented and focus on the quality of your connections over any connection. Nothing is worse than getting those automatic, canned email responses from every person you follow or connect with. Don't do that. Instead, take the time to get to know the person before reaching out.
Creating a working network requires that you not only connect in these different ways, but also that you follow up with your connections in a way that makes sense. Just because someone "likes", "follows" "connects" or even speaks to you at an event doesn't make them a real part of your network. Following up and building a relationship with them does.
Take these connections and turn them into a true network by reaching out to them and answering the call to help them when asked too.
Everybody should be able to achieve what they want in life. But just like anything else, you need to work to hard attain that dream. With perseverance and a lot of preparation, you just might be on your way to that dream. I wish you every success in the world.