If you are looking for a job that allows you to work from home, then becoming a virtual assistant (VA) is a great choice. Many people that have previously worked in an office in an administration role, as an assistant, or been in marketing and social media are trading their in person job life for a virtual one.
Becoming a virtual assistant gives you the flexibility and freedom to not only choose what areas you want to work in, but how and when you do it. The best way to become a virtual assistant is to create your own business and choosing the services you want to offer.
Virtual assistants are currently an in-demand job. Owners and managers of businesses around the world are realising that they do not need to have someone in the office to get certain tasks done, especially when they do not have enough work with those tasks to justify paying for an employee full time. This has created the perfect environment for VA's to fill the gaps and get those tasks done.
AFFILIATE DISCLAIMER
This post may contain affiliate links which means that if you purchase something through one of the links, we make a small commission. Thank you for supporting Work At Home Mums. You can read our full disclosures in our privacy policy.
What is a Virtual Assistant?
A virtual assistant is someone that does tasks and provides services to businesses and individuals from a virtual location. A VA can do almost any task an administration or support staff would normally provide. Virtual Assistants can work as employees, but more commonly run their own home based business.
There are many types of virtual assistants that offer a variety of services including content creation, administration, bookkeeping, website management, customer service, email management or even research. Basically any task that can be done without you needing to be on site somewhere in person can be done by a VA.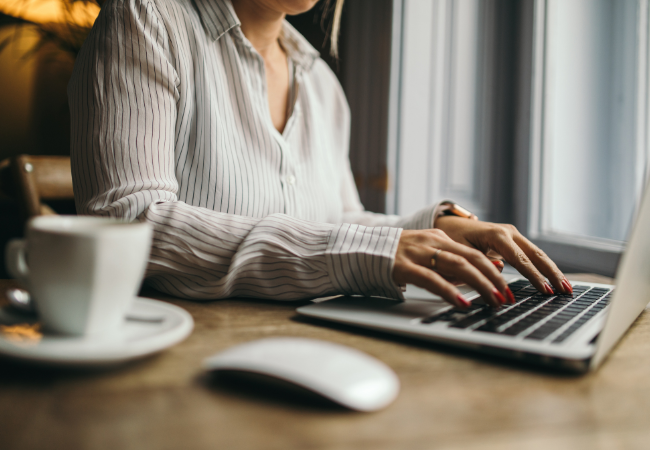 How to Become a Virtual Assistant in Australia
You don't require any formal training or experience to become a virtual assistant, but it can help. There are several steps you can take to help you on your way to becoming a successful virtual assistant.
1. Decide what services you want to offer.
What do you want to do as a virtual assistant? Define what you are going to offer to people as your service. There are a couple of ways you can choose to offer VA services. You can either offer the same service to multiple businesses (if there is not enough work for you from one business) such as email management or bookkeeping. This means you are doing one type of service for multiple clients and you can specialise and hone your skills and become an expert in that particular service.
Another way is by offering different services to one type of niche. An example of this would be all types of administration assistance to tradesmen (answering enquiries, sending invoices, marketing etc). While your skills would be more widespread and possibly not as honed as if you only did the one thing, you would become an expert in the niche and what those businesses need.
Either way is a practical way of thinking of your virtual assistant offerings. Remember that whatever you choose, you want to enjoy what you're doing, especially if you choose to offer one service. You will burn out very quickly as a VA if you are focusing on an area you don't like doing.
2. Look at the skills you have.
Look at the skills and experience that you have to see if what you do already is suitable for the VA services you want to offer. Do you need to do any upskilling or training? If you don't have the skills you need, get them. If you have a shortfall in skills in a particular area, you might be able to find a short or online course that gives you the necessary knowledge.
Most virtual assistant offerings don't require specific qualifications, however some services you will not be able to offer without the correct qualifications, such as bookkeeping. Other offerings might also help if you have a certificate to show future clients.
At the very least a virtual assistant will need:
Good communication skills
Be computer literate with good typing skills
English and grammar skills
Basic administration skills
More advance skills in the service you want to offer
The ability to work autonomously – you won't have anyone looking over your shoulder to make sure the work is done.
3. Create your business
Most virtual assistants create a business they can run from home. This involves choosing a business structure, obtaining an ABN, choosing a business name as well as a few other things. We run you through the basics in our article about setting up a business in Australia. To ensure you are setting up your business correctly it can help you to speak to an accountant to make sure you get it right the first time.
4. Get the tech you need.
Being a virtual business means you are going to need some technology to connect you to your clients and do your work. What you need may vary depending on the services you offer, but there is some stuff that will be common to any virtual assistant.
A good, fairly up-to-date computer.
A good internet connection
The software you need to perform the services you want to offer
A professional email address – try to keep it separate to your personal email. Also think about having an email address that is linked to a domain name such as [email protected] as it looks much better than a generic email company one. Google Workspace is good to use for this and you also get a video meeting function (Google Meet), cloud storage (Google Drive) and Google Calendar as well as other functions included.
Cloud storage with a share function (if not already set up with Google Workspace above)
Insurances (such as public liability and/or professional indemnity) depending on your circumstances
5. Set your prices
Virtual Assistants working for themselves can set their own rate. You can either charge by the hours worked (at a hourly rate) or a total price for a project. But either way, you need to work out how much to charge for your services.
It is important to sit down and accurately look at the costs of performing a job for a client, including all of your software expenses, internet and other costs of running your business. Also consider that you will need to pay tax (income or business depending on your structure) and GST if that applies. The rate you charge should cover your expenses, and then an amount factored in for you (your salary). Don't forget about Superannuation (you have to put some aside for that as there's no employer magically putting it in there every month) and remember that when you work for yourself you don't get paid for holidays unless you factor that in.
There is no point becoming a VA just to lose money, so ensure you do the maths before working out the rate you want to charge. Remember if you have a lot of skills and experience or are an expert in your offerings, you will be able to justify charging a lot more than someone who is a beginner. Do some research in regards to what other people are charging, but ensure that whatever amount you end up with is enough for you to survive.
The great thing about working as a virtual assistant (especially if you work from home) is that your overhead expenses are generally minimal. However, a trap people fall into is thinking that they need a lot of fancy things to run a business, but ensure that when you are starting out you are just getting the essentials in regards to software and equipment. A great book to read is Profit First by Mike Michalowicz who talks about ensuring that there is money for yourself, and not doing all this work to find you're only getting $1 an hour at the end of the day.
6. Create an online presence.
You want people to be able to find you when they want the services you offer and online is the easiest way for that to happen. An online presence makes it easier to to promote your virtual assistant services and display your skills and experience.
A website is a great option as it not only allows you to promote yourself, but you can add reviews from previous clients, create a services and price list and an online portfolio. Social media can also be a useful tool for promotion.
7. Find jobs
Possibly the hardest step in the process is finding your first clients. There are a number of websites that you can put up profiles and look for work straight away such as:
Fiver
Upwork
Flexjobs
Expert360
DesignCrowd
OzLance
99 Designs
Freelancer
PeoplePerHour
Be aware a lot of these websites do charge a percentage fee of your rate, so ensure you look at that and factor it into your costs when you are quoting for jobs.
There are also other ways to get your name out there and market your services. Join local business groups and go to meet ups in your area, print up a services guide and drop it into local businesses, join LinkedIn and Facebook business groups, or even look at your current work connections,
8. Do your job well and get reviews
The biggest asset when you are a virtual assistant is happy clients. If you do your job well and help out your clients they will sing your praises in the form of word or mouth and be happy to give you a glowing review. You can then use this to get more clients.
Also remember to ask for feedback from your clients. Even the ones that think you're great might give you some tips on how you can improve. And the better you get, the more you can charge.
Getting help to become a virtual assistant
Leaping in to becoming a virtual assistant can be scary. Not only figuring out the job part of being a virtual assistant but also starting your own business and all that entails.
If you're feeling a bit dauted, then getting help from people who've been down that path before and can give you practical advise is priceless.
There are a few Facebook groups for freelancers or virtual assistants to join such as:
These sorts of groups can be useful to give advise and just comradery with people going through the same thing, but if you want expert help, then doing a course from the VA Institute will be massively beneficial. 15 years ago, Ingrid Bayer started operating as a virtual assistant from home and within 2 years had a team of VA's working for her. In 2017 she opened VA Institute to help train and support virtual assistants starting out in their own businesses.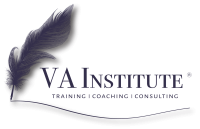 If you're working in administration, EA or PA services and want to transition to working as a virtual assistant, then the VA Institute offers learning opportunities to suit everyone.
There is a self paced VA Quickstart Program that allows you a great foundation to start your VA business.
If you want more of a helping hand and a complete in-depth program, then the VA Startup Program is for you. This is more than a course, you will leave it with a complete understanding of your VA business, as well as a working website, email and logo. Its delivered in your choice of ways, as a self paced program, a one-on-one training via zoom, or a 2 day in person intensive workshop.
The programs are built on the knowledge and experience of running successful VA businesses and are a great kickstart to getting you up and running. If you use the code WAHMVA you will receive a 5% discount.
Final Thoughts
In this article we've given you some good starting points for how to become a virtual assistant. Becoming a virtual assistant is a great way to use your administration experience to create job opportunities and a business on your terms. If you are looking for something that is easily able to be done from home then being a VA is a great option.
Pin this article