We love a good family friendly recipe at WAHM, and today I'm bringing you one for Seedy Oat Bars from our guest blogger Melanie at Life is for Living.
In January this year my little family and I made the big decision to pack up our suburban life and move to a more peaceful life in Victoria's, Yarra Valley. For me this change has been a long awaited dream come true. My goal now is to live as sustainably as possible and create a better living environment for my children and me. Our country life is filled with a lovely big green block, chooks, vegetable patches and fruit trees. We are learning more about how our actions effect the environment around us every day and for this I will always be thankful we made the change.
The simplest way I believe we can all live a more sustainable life is to support local business. The Yarra Valley and Dandenong Ranges is filled with some of the most beautiful art, produce, creators and accommodation. I am passionate about every business I work with and love supporting them through the Life is For Living directory. I am truly passionate about each and every business I work with.
Today I'd like to share with you a recipe from an amazing friend of mine and fully qualified Naturopath. We are both always striving to fill our tummies and our children's tummies with nutritious goodies and love trying new recipes with locally sourced ingredients. Enjoy.
Seedy Oat Bars
 Ingredients
½ cup Chia Seeds
½ cup Sesame Seeds
½ cup Linseed
¼ cup Sunflower Seeds
2 Cups Rolled Oats
2/3 Cup Honey
2/3 Cup Coconut Oil
Method
Preheat Oven to 190°c. Line a lamington pan (18 x 28cm) with baking paper.
Make your seed mix by mixing black chia seeds, sesame, linseed, sunflower into a jug, then pour into an airtight container or jar to store.
Combine Oats and 1½ cups of seed mix into a bowl with fork.
Melt together honey and coconut oil.
Add into dry mix & use a wooden spoon or spatula to mix. Once combined scrape into the pan. Smooth evenly.
It may not reach the other end so make sure you keep it at least 1cm thickness as it will spread during cooking
Bake for 20mins or until the golden on top.
Leave to cool completely in the pan before transferring onto a board. Remove the paper & cut into rectangles. Store in a lined air tight tin.
This makes a great lunchbox snack but try to keep cool as it can crumble if it gets too hot and the honey melts again.
Make sure the slice is completely cold before cutting.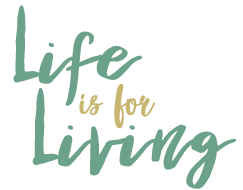 You can find out more from Life is for living by visiting their website, Facebook or Instagram.