When you're having a day where nothing goes right, sometimes you need to look at a different perspective. It's hard to have motivation all the time, especially when you're trying to do all the things. So here's some inspirational quotes to motivate you when you need a pick me up.
Inspirational quotes to motivate you
Quotes about success
"The way to get started is to quit talking and begin doing" – Walt Disney
"The pessimist sees difficulty in every opportunity. The optimist sees opportunity in every difficulty" – Winston Churchill
"People who are crazy enough to think they can change the world, are the ones who do." – Rob Siltanen
"Whether you think you can or think you can't, you're right." – Henry Ford
"It does not matter how slowly you go, so long as you do not stop." – Confucius
"Learn from the mistakes of others. You can't live long enough to make them all yourself." – Eleanor Roosevelt
"Strive not to be a success, but rather to be of value." – Albert Einstein
"Your talent determines what you can do. Your motivation determines how much you are willing to do. Your attitude determines how well you do it." – Lou Holtz
"You will never plough a field if you only turn it over in your mind." – Irish Proverb
"Intelligence is the ability to adapt to change." – Stephen Hawking
"Don't count the days, make the days count." – Muhammad Ali
"I'm a great believer in luck, and I find the harder I work the more I have of it." – Thomas Jefferson
"The difference between try and triumph is just a little umph!" – Marvin Phillips
"You will never win if you never begin." – Helen Rowland
"You can never cross an ocean until you have the courage to lose sight of the shore" – Christopher Columbus
"You miss 100 percent of the shots you don't take"- Wayne Gretzky
"What we think, we become" – Buddha
When you're having a bad day
"We may encounter many defeats but we must not be defeated." – Maya Angelou
"It always seems impossible until it is done." – Nelson Mandela
"You simply have to put one foot in front of the other and keep going. Put blinders on and plow right ahead." – George Lucas
"Nothing is impossible, the word itself says 'I'm possible'!" – Audrey Hepburn
"The only person you are destined to become is the person you decide to be." – Ralph Waldo Emerson
"Remember that not getting what you want is sometimes a wonderful stroke of luck." – Dalai Lama
"When I'm sad, I stop being sad and be awesome instead." – Barney Stinson, How I Met Your Mother
"You have brains in your head. You have feet in your shoes. You can steer yourself any direction you choose." – Dr. Suess, Oh the Places You'll Go
Finding your passion
"The only way to do great work is to love what you do. If you haven't found it yet, keep looking. Don't settle." – Steve Jobs
"Go for it now. The future is promised to no one." – Wayne Dyer
"Your time is limited, so don't waste it living someone else's life." –Steve Jobs
"I'd rather regret the things I've done than regret the things I haven't done." – Lucille Ball
"Don't let the feat of losing be greater than the excitement of winning." – Robert Kiyosaki
"Determine that the thing can and shall be done, and then we shall find the way." – Abraham Lincoln
"What makes you different or weird, that's your strength," – Meryl Streep
"A year from now you may wish you had started today." – Karen Lamb
"Write it. Shoot it. Publish it. Crochet it, saute it, whatever. MAKE." – Joss Whedon
"Follow your passion, stay true to yourself, never follow someone else's path. Unless you're in the woods and you're lost and you see a path then by all means, you should follow that." – Ellen Degeneres
"Don't let others discourage you or tell you that you can't do it. In my day I was told women didn't go into chemistry. I saw no reason why we couldn't." – Gertrude B. Elion, Biochemist and Nobel Prize Winner
"Someday is not a day of the week." – Janet Dailey
"Listen, smile, agree, and then do whatever you were gonna do anyway." Robert Downey Jr.
"Think left and think right and think low and think high. Oh, the thinks you can think up if only you try." – Dr. Seuss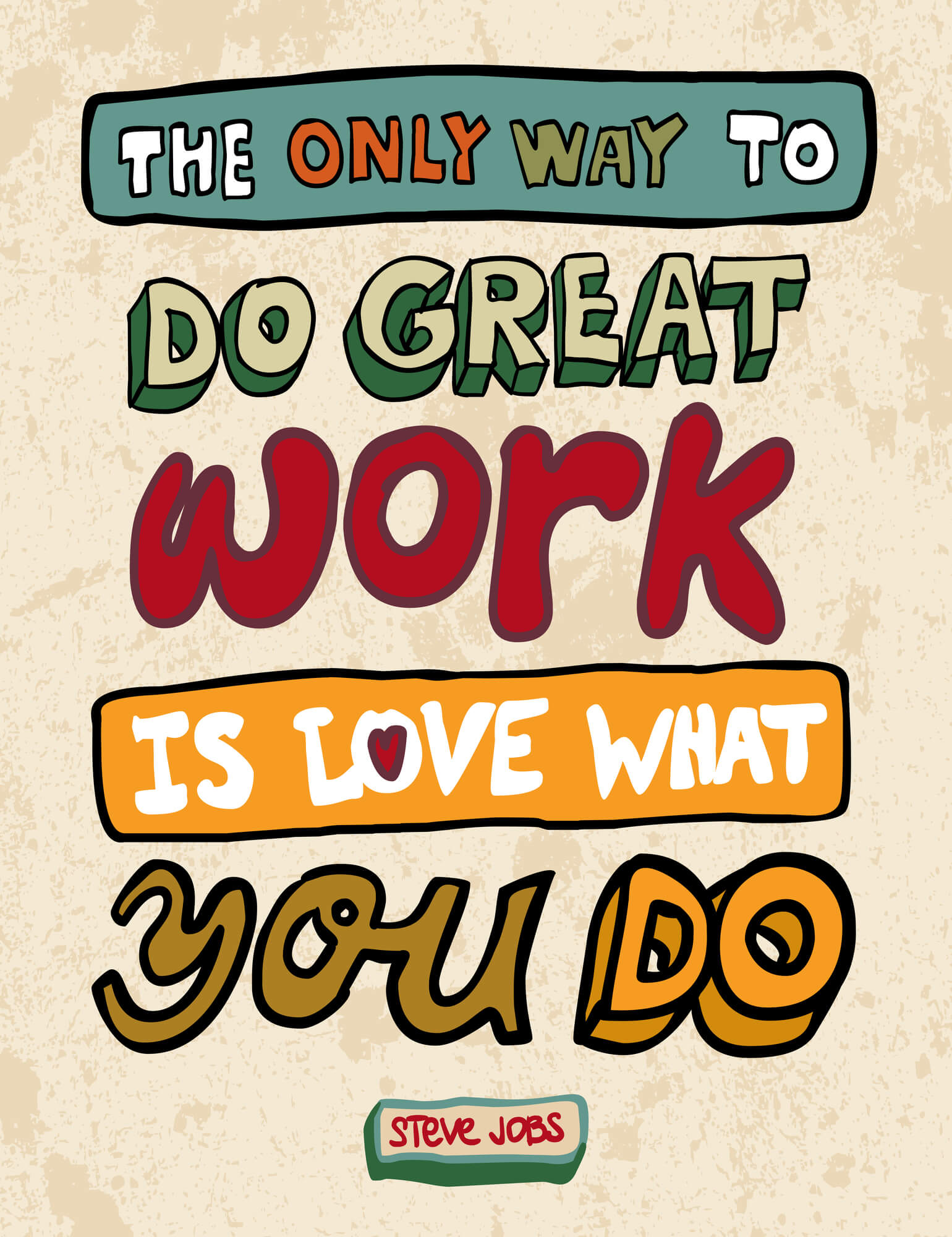 On not giving up
"The greatest danger for most of us is not that our aim is too high and we miss it, but that it is too low and we reach it." – Michelangelo
"When everything seems to be going against you, remember that the airplane takes off against the wind, not with it." – Henry Ford
"Fall seven times, stand up eight." – Japanese Proverb
"Obstacles don't have to stop you. If you run into a wall, don't turn around and give up. Figure out how to climb it, go through it, or work around it." – Michael Jordan
"When life gets you down do you wanna know what you've gotta do? Just keep swimming." – Dory, Finding Nemo
"I have not failed. I've just found 10,000 ways that won't work." – Thomas Edison
"The real test is not whether you avoid this failure, because you won't. It's whether you let it harden or shame you into inaction , or whether you learn from it; whether you choose to persevere." – Barack Obama
"If you can't fly then run. If you can't run, then walk. And, if you can't walk, then crawl but whatever you do, you have to keep moving forward." – Martin Luther King Jr.
"It's hard to beat a person who never gives up." – Babe Ruth
"If you fell down yesterday, stand up today." – H.G. Wells
"Even if you are on the right track, you'll get run over if you just sit there." – Will Rogers
"Never give up on something you can't go a day without thinking about." – Winston Churchill
Belief in yourself
"Staying positive does not mean that things will turn out okay. Rather it is knowing that you will be okay no matter how things turn out." – Unknown
"She was powerful not because she wasn't scared but because she went on so strongly, despite the fear." – Atticus
"Believe you can and you're halfway there." – Theodore Roosevelt
"The moment you doubt whether you can fly, you cease forever to be able to do it." – J.M. Barrie (in Peter Pan)
"I am not afraid of storms, for I am learning how to sail my ship." – Louisa May Alcott (in Little Women)
"Even the darkest night will end and the sun will rise" – Victor Hugo (in Les Miserables)
"If you think you are too small to make a difference, try sleeping with a mosquito." – Dalai Lama
"Nobody who ever gave his best regretted it." George Halas
On life and love
"A truly rich man is one whose children run into his arms when his hands are empty." – Unknown
"Life is 10% what happens to you and 90% how you react to it." – Charles R. Swindoll
"If you look at what you have in life, you'll always have more. If you look at what you don't have in life, you'll never have enough." – Oprah Winfrey
"If you just set out to be liked, you would be prepared to compromise on anything at any time, and you would achieve nothing." – Margaret Thatcher
"It is our choices that show what we truly are, far more than our abilities." – J.K. Rowling (in Harry Potter and the Chamber of Secrets)
"How wonderful it is that nobody need wait a single moment before starting to improve the world." – Anne Frank
"Always be a first-rate version of yourself, instead of a second-rate version of somebody else." – Judy Garland
"Love all, trust a few, do wrong to none." – William Shakespeare
"The secret to life is: adapt, adjust, revise. Because the only thing you can be sure of is that everything is going to change." – Alan Alda
"Have enough confidence to trust love one more time and always one more time." – Maya Angelou
"You only live once, but if you do it right, once is enough." – Mae West
"When tempted to fight fire with fire, remember that the Fire Department usually uses water." – Unknown
"Only I can change my life. No one can do it for me." – Carol Burnett
Need more inspiration?