One of the things I love about running this website is finding some amazing businesses run by some even more amazing work at home mums. One such mum is Pauline, who runs Peeky Me, a subscription craft box for kids aged between 3 and 7. We were chatting about running a giveaway on Work At Home Mums (see more on that below) and I mentioned I had kids in Peeky Me's target age range. Soon I had a box on the way to my girls to try it out for themselves, so this is more their review then mine.
My girls are 2 and 4, so at the bottom end of the suggested age group. Now, I quite like doing craft things myself when I get the inspiration and energy. However, like a lot of busy mums trying to do everything, the thought or organising craft activities to do with them gets me exhausted before I even start, so I tend to leave it to daycare for that sort of stuff. The Peeky Me box seems to take all the hard work out of craft activities though, as I don't have to think of any ideas of things the kids can make, nor do I need to source supplies.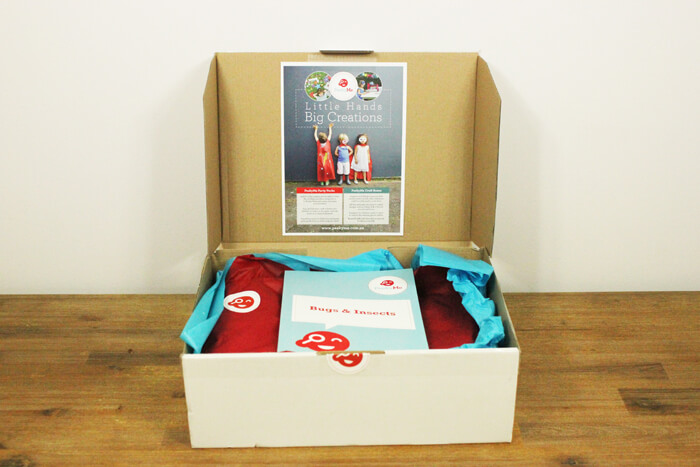 So our cute little box arrived, packaged very nicely. This months theme was bugs and insects, and inside was a instruction guide and all the parts to complete four activities. The kids were very excited to open it all up and get started.
Activity 1 – Watch your insect grow
This one was pretty simple, fill a jar with water and then put the insects in to soak. Over the next 2 days, they tripled in size and the girls checked on them quite often to see if they had grown any more.
Activity 2 – Design your own bug jar
This one came with everything you needed to decorate a plastic bug jar (including a magnifying glass to check on any bugs). They were quite excited to find it would be a ladybug. The only help I had to provide (and older kids probably wouldn't even need that) was to put the glue dots onto the back of the foam pieces so they could stick them on, everything else was up to them.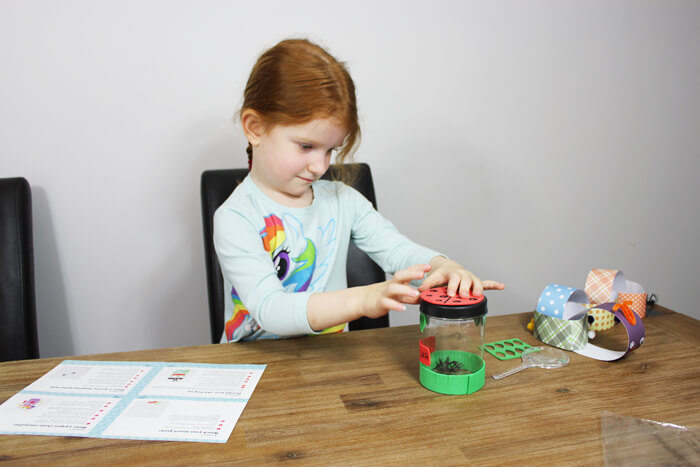 Activity 3 – Make a paper chain caterpillar
I liked this activity, it was very cute. You got all the different coloured paper strips to make his chain body, and all the bits and bobs to create the face and feet. My eldest did most of this one, as the younger one was more excited by chopping up one of the strips with the safety scissors. She needed a bit of help putting the chain together and getting the glue dots onto the pompom feet, but it was fun doing it together.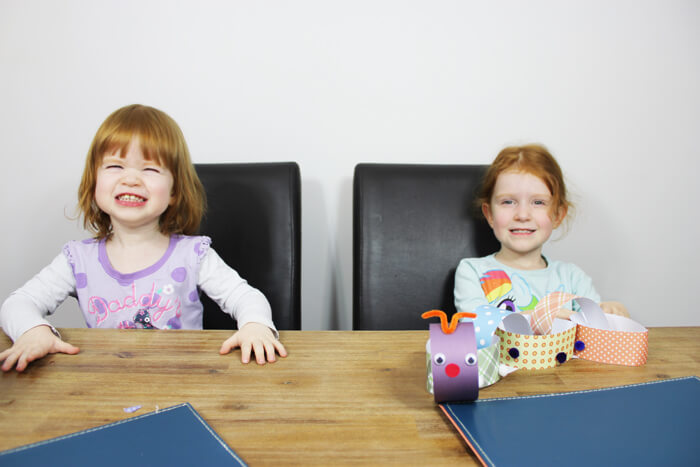 Activity 4 – Make a spooky dangling spider web
This was the most involved activity, and the clever way it was done was not something I would have ever come up with own my own, but the final product was a great self contained spider web. The kids thought it was very cool, and actually wanted to start doing this one first. It took a bit of teamwork to get all the wool around the balloon, and lots of sticky glue hands but it was a lot of fun. There were even fake spiders to put on the finished product.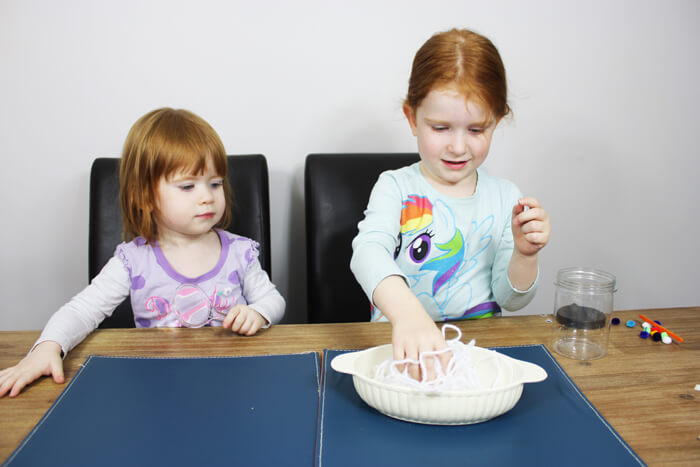 All in all this was a great way of spending an afternoon with the girls. We all had a lot of fun and got to spend some quality time together. And apart from the arachnophobia I get every time I see those bloody fake spiders on the web, they were some great activities. I wouldn't have come up with anything like the stuff that came in the box. If you aren't particularly good at coming up with craft ideas (or don't have the inclination to try) but you want to get involved in craft with your kids then this is actually a really good idea and takes all the hard work out of setting up activities. And you'd easily spend the money it costs for the box on supplies to do the same activities, with a lot more waste and effort.