Bored of how your garden looks and think it's time it had a makeover? Yes, we know this sounds expensive, but hear us out! There are so many ways to give your outside area a fresh look without breaking the bank. It's easier and cheaper than you might think to introduce bright colours, pretty plants, and character to your garden. Here are a few of our favourite ideas:
Spruce up your garden furniture
You'd be surprised at what a bit of a clean and a lick of paint can do. If you leave your furniture out the whole year round it's no wonder it starts quickly looking worse for wear. No-one wants to sit on a dirty, cobwebby chair or eat from a table that has mayonnaise from your last barbeque smeared on it. All it takes is a bucket of warm soapy water, a sponge, and a good wipe down. For more detailed instructions on cleaning garden furniture, check out this article. Once the furniture is dry, you can start painting (if that's the plan). Make sure to choose a paint that's suitable for use on exterior wood and metal and adds some protection from the weather. To make the chairs and tables even more bespoke, why not stencil a design on them?
Build an insect hotel
Our article on 75 fun things to do at home with the kids probably kept your family busy for a while, but now we've got a fun activity for the garden – building an insect hotel! Bugs (well, the helpful ones) do a lot for the garden so why not thank them by presenting them with their own abode? The actual activity itself is not only fun to do, but insect spotting with the kids is also an enjoyable activity. If you make the insect hotel really sturdy, your family will be able to enjoy it for a long time and it'll look great as well as be beneficial for the environment. Here's all you need to know about building a bug hotel for your insect friends.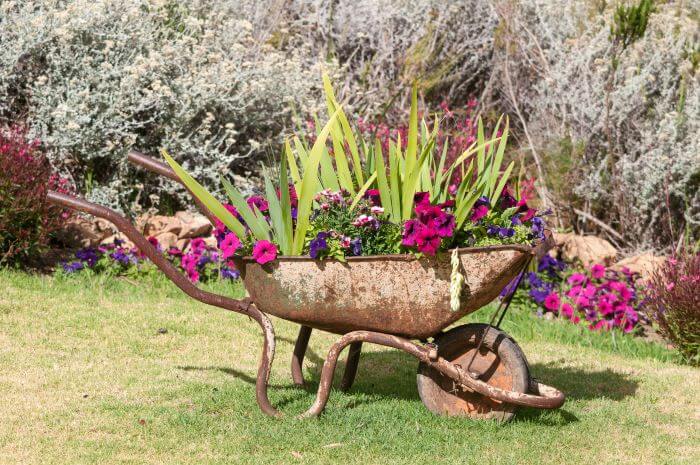 Reuse and recycle
A great way to do things on the cheap is to make use of what you already have…and your conscience will feel better for it too! Maybe you've got a plant pot with a crack in it that you don't know what to do with? Simply knock it (carefully) so the cracked part comes off and then place the pot on its side and fill it little stones or small plants and you've got yourself a unique garden decoration. Your wheelbarrow can't be pushed in a straight line anymore? Retire it and fill it with flowers and plants! There are so many things you can use as planters in your garden. Even old buckets and tins work a treat. There's no need to splash out on fancy ones from the garden centre. This article has more information on what can be recycled in your garden.
Light the way
There's no need to stop enjoying your garden once the sun goes down, especially if you've got lighting. Depending on how you go about sourcing the lighting for your garden, it could end up being pricey. So, this is why solar or battery powered lights are a great idea as they're so cheap, but look great. The warm, orange glow can transform your outside area and make you see it in a different light – literally! Either twist lights around a tree trunk, hang them over the table, or weave them around plant pots. It's a little change that can make a huge difference and make your garden much more inviting.