Becoming a mum is generally one of life's greatest experiences. However, it can also be an extremely isolating one. Once upon a time, we all lived a stones throw away from our families and friends and kids were brought up in villages and tribes with help readily available. But modern life for a lot of mums is a long way from that, and it seems to be a lot harder to make friends as adults than it was in 1st grade. I'll admit that I've found life as a mum with 2 young kids tough, especially as we moved up to the Central Coast two years ago leaving a lot of friends behind in Sydney. I can completely relate to mums who have no family support close by (my parents are on the other side of the country and my husband's are a 5 hour drive away). And sometimes being a work at home mum is even more isolating – at least when you work out of home you have other adults to talk to!
So if you're a new (or not so new) mum and feeling lonely, where are you supposed to find support? The other day I came across Mama Tribe.
Mama Tribe is a brand new community of mums founded by best friends Nikki and Haley designed to combat the isolation and loneliness that can accompany a lot of mums. I asked Nikki about Mama Tribe and she said that's the situation both her and Haley found themselves in. Nikki told me, "One of the the biggest surprises (and there are a lot!) about motherhood that I was not at all prepared for was the loneliness and isolation. Neither myself or Haley have friends and family close by, and we both struggled to connect with other local mums". And from that an idea was born. "Haley and I were talking about how we used to live in tribes and raise our children alongside other mothers. If you had a rough night, someone was there to take your child whilst you rested. If your child was sick, someone would mind your other children. If you cried, someone was there to wipe away the tears. We don't have that anymore – we're all in our own houses going it alone. And it's lonely."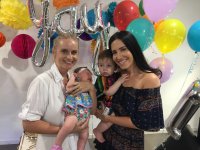 Haley and Nikki, founders of Mama Tribe
The idea of Mama Tribe is simple – try and connect local mama's together. They want no mum to feel lonely, isolated or without support. Any mama or mama to be can join if you are looking for a walking buddy, coffee date, playgroup pal or someone to cry into a bottle of wine with. As they're so new they're constantly setting up new locations and no matter where in the world you are – are trying to support you.
So what's it all about?
Mamas who join the tribe will be able to connect with mamas in their local area for face to face support. That could be coming along to a meet up, finding a gym buddy, walking buddy – they encourage everyone to host their own catch ups, walks or post what they're looking for. Being an online group, there is also great immediate, online support for anyone who needs it.
"We're also really trying to empower mamas to offer support to other mamas you see out and about." Nikki said. "Our mamas are approaching women in parents rooms and telling them to join the group! I really believe that you never know the impact of reaching out to someone who could be having a tough time, even if they look like they have it together – you never know what someone can be going through. We have a great community growing and they've asked us to start creating 'Mama Tribe' items like bag tags, bandannas and shirts so that if you see another mama with it you have a great way to break the ice and connect. I think this is such an awesome idea and I'm so excited to make it happen."
Where to from here?
Nikki and Haley were not at all prepared for just how much the concept has taken off! In just a week since first creating the Facebook group they have amassed over 1000 members and now feel like they've created a platform that could help mums in a really big way! They're even thinking about turning the idea into a not for profit so that they can apply for funding and sponsorship to run programs and meet ups in the areas they're already in as well as expand to new areas. They're also hoping to find someone with NFP experience to mentor them through that process (if you feel that could be you please get in touch with them).
They are also currently trying to get a coffee shop sponsor on board. "From the very first day it was created, we decided that we needed to get a national coffee shop sponsor on board, because for most of us mum life is powered by caffeine. I also feel like for some people big mum meetups can feel a bit intimidating, particularly if you're having a rough time. I feel like a one-on-one coffee date or even a few mamas meeting up for coffee is a bit more low risk and intimate. So we're currently in the process of speaking to some Australian coffee shops to make this happen! We'll keep you posted!"
Where can I find them?
The main group is on Facebook – https://www.facebook.com/groups/yourmamatribe/ but you can also find them on Instagram – @mamatribe_ or use the hashtag #nomumleftbehind.
And what's the main thing they want you to take away from Mama Tribe? That you are not alone!