If you have an employment gap, it can cause a lot of stress and anxiety when writing your resume. Many people believe that an employment gap will be a negative to an employer and take you out of the running, but it is generally how you tackle the employment gap in your resume that determines whether your resume goes any further.
An employment gap is a gap in your resume due to a period of time you haven't been working. This can be due to parenting responsibilities or maternity leave, the caring of a loved one, illness and injury, unemployment, travelling or any other reason that has taken you out of the workforce.
Many people take time off for one reason or another. Sometimes it is by choice, such as raising your children or going back to study, but other times it is involuntary such as illness or injury, or you were made redundant and it took a bit of time to find another job. It's important in any situation not to ignore or lie about your employment gap but write your resume so that the employment gap is overshadowed by the skills and experience you do have.
How to explain a resume gap
So what is the best way to explain a gap in your employment on your resume? That can depend on the reason for the gap and what you were doing while you weren't employed in a formal job. But there are some things you can do to help get your resume noticed and feel confident!
There are three main ways to explain a resume gap.
1. Fill the Gap
You can fill the gap if you have done other things in your break such as volunteering, travelled or undertaken study. You can detail the relatable skills and experience you've gotten from those activities in the employment section of your resume where the gap appears.
Some activities that can be used to fill a resume gap are:
Undertaking study or training, either formally (nationally accredited study)or informally (unaccredited courses and training),or through self-study.
Voluntary work with community groups, not-for-profit organisations or community events;
Unpaid work with private businesses (e.g. family or friend's businesses);
Participating in school, sports association or church group activities.
Operating your own small business or common interest group or online community.
Engaging in other project work like writing a book, creating artwork, etc. 
2. Smooth the Gap
If your break has been brief (i.e. between a few months, up to two years), or you've had a longer break where a portion but not all of your gap can be filled with experience, then you may remove the months from your employment dates and simply list the years on your resume instead.

It would look like this:
Administration Assistant     2020 – 2021
instead of this:
Administration Assistant     10/2020 – 11/2021
This can help smooth relatively small breaks in employment but be prepared to explain those gaps in an interview in case you are asked.
3. Own the Gap
Where you do not have:
any experiences to add to your resume during your break;
the capacity to gain some experience to add to your resume, or;
your experiences during your break do not at all link or relate to your goal work (or you simply wish to not divulge this information),
then do not provide a detailed explanation of your break. 
Instead, simply include a one-line sentence to the effect of (choose or adapt one to suit below):
Career Break: Parenting.
Career Break: Parenting — child with advanced learning difficulties.
Career Break: Parenting — special needs child.
Career Break: Independent Carer — special needs family member.
Career Break: Compassionate Leave.
Career Break: Compassionate Leave — cared for a family member recovering from a stroke.
Career Break: Illness/Injury. Now fully recovered from a temporary condition. Medical clearance to work available.
Career Break: Study – Study and completion of Certificate in [subject]
Career Break: Study – Studied [insert subject self-studied and researched]
Career Break: Travel – [Overseas or Australia]
Career Break: Self-Initiated Long Service Leave [or sabbatical – detail voluntary or other activities here]
Simply writing a short narration of a few words is the most concise and professional way to state, without further elaboration, why you have a space on your resume. Remember not to divulge information too personal in nature (it's not necessary or relevant!).
It is important to remember that you are under no obligation to divulge any personal information in your application. Any information you willingly share should be 100% supportive of your application.
You are not obligated to share your personal circumstances, and employers are legally compelled not to discriminate against you on the basis of whether you have kids, caring responsibilities, or your disability status which may include illness or injury. However, using these experiences, where of course they are transferrable, relevant and support your claim to the work you're applying for, can be used to enhance your candidacy. If your experiences in your personal life do not relate to the work you are seeking, then leave it off.

Use your best judgement as to whether your circumstances and experiences can be related to your new work or employer, and where it doesn't, leave a simple statement to account for the gap so the employer doesn't need to rationalise one instead.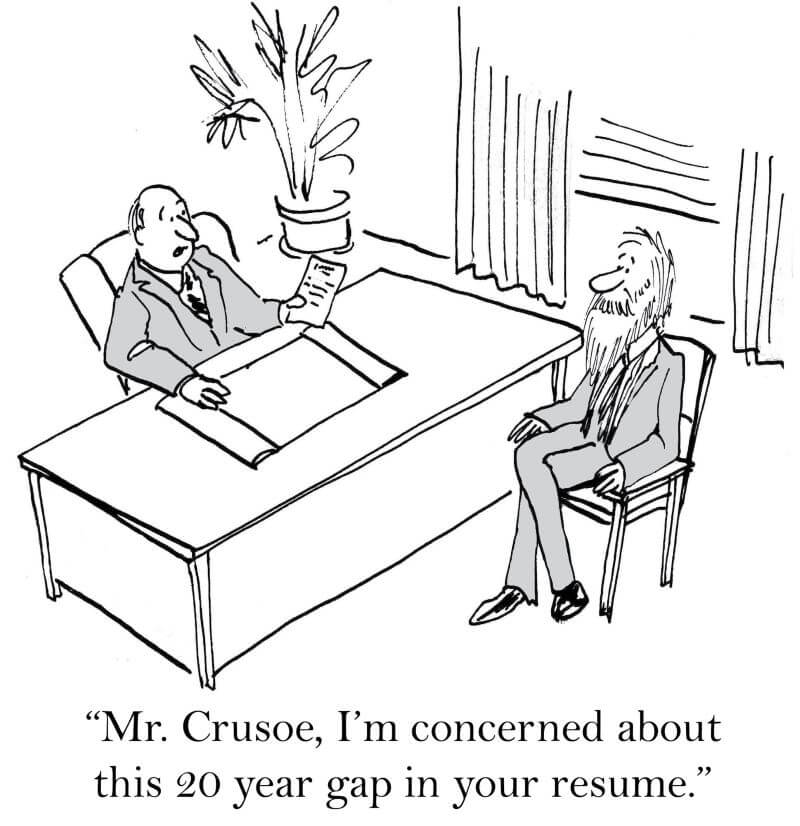 Tips for writing a resume with an employment gap
If you've been out of work for a while, it can be a daunting prospect to be doing your resume and looking at future interviews. You might have been out of work for quite some time and now you're feeling anxious, overwhelmed or even a little hopeless about what the future holds for your career.
Employment gaps are far more common than not these days; our social norms and family structures are evolving, as so with it too, it is becoming more common for fathers to be a primary carer of children, women and single parents working, people to become carers for ageing relatives or ill parents, partners or children or for people to be affected by serious illness and injury that needs recovery time.
Most employers accept that it – life – happens. The challenge and opportunity we face is presenting ourselves in a way which makes it easy for an employer to see our value, rather than our gaps, so we can be competitive and successful applicants.
With that in mind here are some extra tips for your resume.
Make sure people can read it
Put your resume in a format people, and recruiter scanning programs, can read. The best way to do this is send it as a Word document.
Have a professional email address
Make sure you have a professional sounding email address. Ideally use something like [email protected] rather than [email protected]. Having a professional sounding email won't get you the job but having a nonprofessional email address may cost you an interview.
Be honest
You may think it would be easy enough to hide your employment gap with come creative editing of your other positions but would be employers can easily check things so just be honest. It's also important not to inflate titles and embellish duties, put in half-finished degrees, inflated education, or 'purchased' degrees that do not mean anything, exaggerate accomplishments or put in out and out lies in regard to specific roles and duties.
Be prepared for interview questions
If you have a gap on your resume, you may be asked further about that in an interview. Be prepared before hand with how much you are willing to share, keeping in mind that you don't have to divulge anything too personal. If it's not going to affect your work performance, then you do not need to share.
Here's some other tips on being successful in interviews.
Have a career summary
Instead of a career objective have a Career Summary or Performance Summary instead.  If you read it and it can apply to anyone, you are not being specific enough.  It must be unique to you. Begin with a summary of achievements and qualifications that showcase your skills that are the most relevant to the position you're seeking.
Use achievements, not duties
Do not submit a position description – submit a document that sells your value-add. What did you achieve at your last jobs? Don't just rehash what you did there.
Taking time off work doesn't negate any of your special achievements. If you've won an award, it's because you deserved it. If you brought a project home under budget, you've done a remarkable job. If you've led the most productive team in your organisation, you have the runs on the board. These are still outstanding results whether they occurred this year or last. Make sure you feature them.
Skills are transferable
Are you returning to work but in a different field to your previous career? Talk up your transferable skill set and adaptability.  Your fresh perspective might just be what the employer is looking for.
Remember your resume and cover letter both reflect you so make sure you spend time getting it right. With a carefully crafted and tailored resume and application letter, clearly detailing what you have done to demonstrate your interest in your industry, you can confidently apply for the perfect position.
If you're still stressed about the thought of writing your resume, then our Resume Writing for Return to Work Success program can help you create and perfect your resume. In it you will learn to develop a job search strategy that saves your time and sanity, create a magnetising resume that gets your phone ringing and application tips to ensure your best chance of success in the shortest time possible.