If I was filthy rich, forget the cleaner or a nanny, the first person I would hire would be a personal chef. I hate cooking, and given that I'm the one working from home and my husband doesn't walk through the door until right on that time when the kids are about to go crazy if they don't have dinner immediately, I end up doing 90% of the cooking in our household.
I'll be honest with you, I'm exhausted. I have two kids under 4, I run two work at home businesses and am in my last year of a business degree. The last thing my mushy brain wants to do is come up with something worth eating, meal plan, shop and then cook. So if someone wants to do my meal planning and shopping for me, who am I to argue with that? And that's where HelloFresh comes in.
What is HelloFresh?
HelloFresh is a fresh food subscription service. They are not ready made meals, you get fresh ingredients and recipe cards to make the weekly given recipes. It gets delivered to your door (yay) and you don't have to be home to get it delivered as it will stay cool for hours until you get home. You get three choices of boxes, classic, veggie or family. We chose the family box to try (for obvious reasons).

What did we get?
So happily on a Tuesday morning our box turned up (the above photo is the actual box that arrived). I eagerly opened it to see what was inside and I must admit it did look nice! Was neatly packed and the food looked fresh. The recipes we got in the box were:
Pork Sausage Rolls with Tomato Chutney & Walnut Salad
Teriyaki Chicken with Coconut Rice
Southern Chicken Burger with Golden Fries
Dukkah Beef with Fetta, Sweet Potato & Cucumber Salad
Cooking Made Easy?
The main ingredients for all the recipes are included and all proportioned so there is very little food wasted. If you need 500g of chicken for a meal, then that is what they give you. You will still need to add some staple pantry items (oil, butter, flour, soy sauce etc) but most things are included. I found the recipes easy to follow and not at all difficult. Apart from not reading things properly and putting a whole sachet of spices in when it should have been half (but that didn't really effect anything except have a bit more spice) the food was very easy to prepare and cook. The longest recipe took 50 minutes but that was to roast things in the oven.
How'd It Taste?
I suppose we'd better get to the most important thing when it comes to food….. how did it taste? The food was so very yummy!!!! Myself, my husband and two kids all devoured every recipe and the pork sausage rolls are amazing! My 3 year old doesn't normally eat sausage rolls but she ate it all.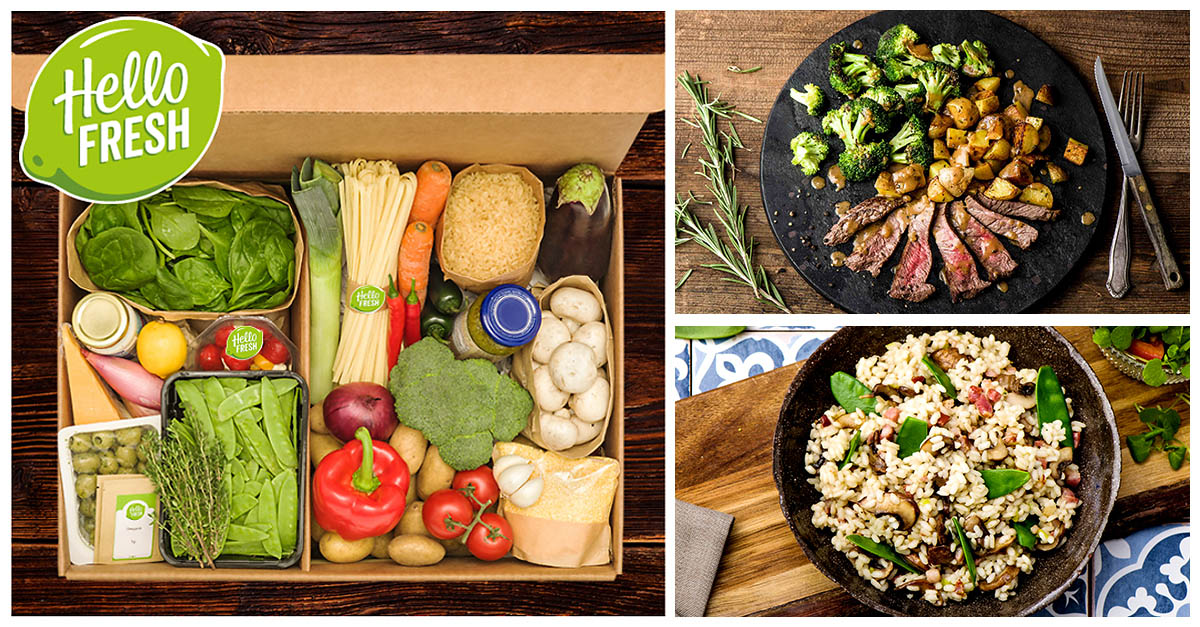 Reasons To Try HelloFresh
You can cook meals from scratch – If you're trying to avoid preservatives or store bought food but cooking from scratch scares you a bit this is made for you. You don't even have to work out what goes in a recipe, they do all the work for you.
You get sent fresh food – The food looked amazingly fresh and the cuts of meat were definitely not the cheap flavourless ones.
Less food wastage – They only give you what you need for the recipes so there's no throwing out of any food at the end of the week. Brilliant.
There's no contract – The food will get regularly delivered each week, but there's no contract so you can cancel or pause if you don't need it the next week, or change boxes if you want.
You don't have to think – Seriously, someone just telling me what to cook. For this exhausted mumma, that's gold!
It Can't All Be Good, Right?
There is one thing that disappointed me, and that was the fact that you only got 4 meals for the week. So I still had to use some brainpower for 3 dinnertime's. I'd almost be worshiping this idea if it came with the choice of up to 7 dinners.
I did originally think it was a bit pricey, but looking at the freshness of the food and the cuts of meat we got (free range chicken and a very thick, juicy steak) it's probably not much more than what you'd pay for quality at a butcher and fruit and veg shop, with the added convenience of not having to go there. Although if you had a very big family (or a few teenage boys) there would probably not be enough in one box and it could get costly.
There's also generally no leftovers for hubby to take to work for lunch the next day.
If you're like me and sick of thinking about what to cook for dinner, try HelloFresh for yourself.
Disclaimer: We have not been paid for this review, however we did receive our first box free when I said I wanted to do a review on our website.