Working from home is a great option for many mums. You get to secure your income, feel business fulfillment and watch your kids grow up. If you have no issues with a lifestyle that implies a lot of time at home, being a work-at-home mum is a good way to have it all.
Yet, that doesn't mean that everything will always be perfect and that sometimes things can't get a bit busy – or truly hectic.
The daily tensions often peak during meal preparation time, especially dinner.
Imagine the following situation. You are in a rush to prepare a dish, but your older child needs help with his paper model. Your toddler is trying to get your attention by doing all the things he shouldn't be doing, and your business deadline hovers above it all. Or maybe you don't have to imagine?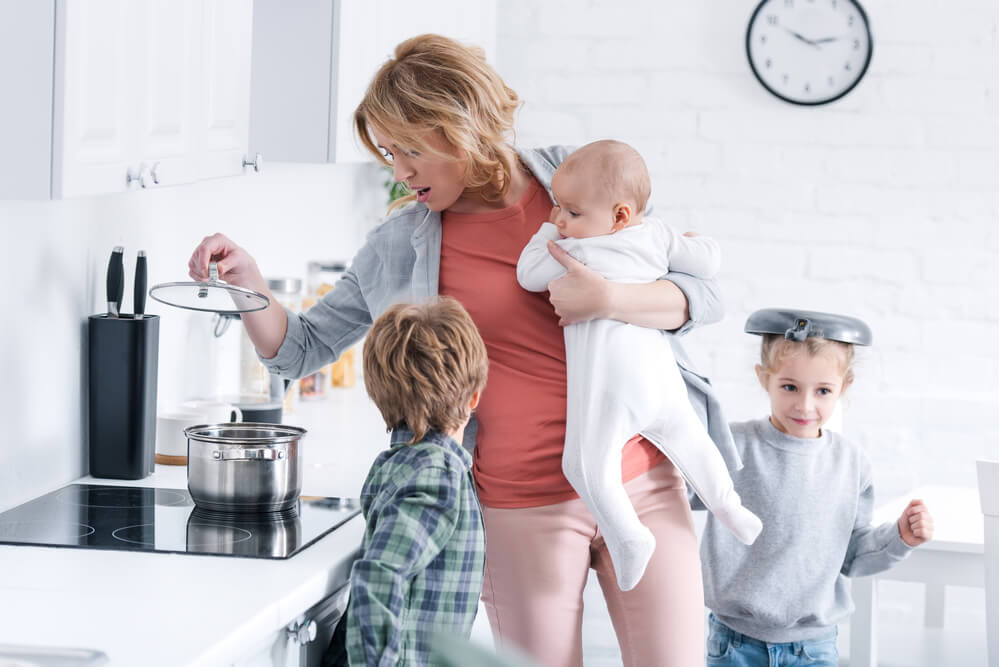 In those circumstances, a dinner can start looking like a foe instead of a "friend" that should bring nutrition and joy to your family.
Fortunately, there are many techniques, tricks, and hacks that can make your meal prep time easier and still result in a healthy, delicious meal. Here are 7 tips for cooking dinner when you're busy!
Plan (Just a Bit) Ahead
You know the feeling when you have very little time to prepare a meal, and your mind goes entirely blank about what that meal could be? You will have to lose extra time going through cookbooks and websites searching for your lost inspiration.
If this happens to you regularly, planning is the best antidote. While planning a weekly menu can be a bit frustrating and boring, knowing what you will cook in the next 2-3 days takes the pressure off. It helps you to be time-efficient even when on a tight schedule.
When You Fry, Fry It Right
Frying is one of the quickest ways to make dinner, but it can go wrong easily. Although the speed is the main advantage of frying, this method also has several major disadvantages:
Fried food has to be carefully watched over if you don't want it to burn – and that is not easy to do when you are trying to multitask.
For children, hot oil presents a real danger that has landed a huge number of little ones in hospitals.
Too much fat in fried foods might give you conscience issues, and in the long run even health issues (if you overdo it).
Fortunately, cooking appliances have evolved beyond our good old stoves and pans, and frying has evolved along with them.
For example, Philips AirFryer will help you make french fries that are super-crispy in a safe and efficient manner. No sizzling oil, no need to constantly watch over the food (the timer takes care of everything), and perhaps the best of all – it is a healthier way to fry. A special technology rids your fried meals of excess fat – up to 90% of it! The same applies if you decide to grill or roast in this type of cooker.
Technology Is Your Friend
As the previous example has already taught you, there are appliances on the market that can make your cooking time a lot shorter and easier. As a general rule, the more versatile the appliance – the better.
An all-in-one cooker is a perfect answer to this challenge. You get a pressure cooker that drastically reduces the cooking time, a slow cooker for tasty stews and tender meat dishes, and a general multi-cooker that can steam, bake and even become your yoghurt maker.
Besides the main functions, this appliance offers other advancements – sensor systems for accurate cooking, plenty of safety features, an option to keep a dish warm for up to 12 hours. It will reduce your active cooking time, plus make it more comfortable. No more standing at the stove while your kids are trying to get your attention (or even worse – being somewhere you can't see getting up to mischief).
Always Have Something Frozen
Cooking larger portions and freezing them is classic advice for making dinner prep easier. However, sometimes you don't have enough space to freeze family meals, or there is just not enough excess food left do justify freezing it.
Good news is that you don't have to freeze entire meals. Freezing a versatile main ingredient that takes the longest time to cook can save you a lot of time, and also give you an opportunity to create various dishes. Good bolognese sauce can also become a lasagna, moussaka or chilli con carne base in the near future. Making an additional amount that you can freeze on the first day will save you some time in the following days.
Keep Your Fridge in Order
If you want to whip something up from what you have, a neat fridge with all the groceries sorted in order will help you make your next meal efficiently. Having to dig through a messy fridge might make you lose both time and patience. And there's nothing worse than wasting money on groceries you actually already had but couldn't see when making your list.

Find a Partner in Crime
If your partner knows how to cook – don't hesitate to ask for help if you are under a lot of pressure. There's nothing to be ashamed of – you are not an almighty superhuman, and one day, unfortunately, has only 24 hours.
Alternatively, call a friend or a neighbour over for a dinner – with a catch that he or she will actually help you make it. That way you will get kitchen help, some fresh ideas, and some time to socialise. Socialising is an important well-being aspect that often suffers when you're working from home.
You should use this advice only when you are not too busy. Otherwise, having to spend a bit of extra time in the company of your friend might make you even more nervous.
Don't Forget to Breathe
While everyday tasks and chores are very real, the pressure you face originates mostly in your mind. Help yourself by learning to take it easy.
If you can't stick to your meal plan – no big deal. If you need to order dinner instead of cooking – do it. Also, don't be hesitant to accept some assistance, whether it comes from appliances or other humans.
Breathe in and try to mindfully enjoy all your moments – with your kids, at your work, or in your kitchen. It is your time!