The Home-Based Business Mum >> The options for working from home were once quite limited. Selling Tupperware, cosmetics, jewellery and other products over the phone or in your home were about the only choices a stay at home mum had.
With the advent of the internet and technology age, the dream of being your own boss is fast becoming a reality for millions of people around the world. There are so many ways to make a living online these days and we will go over a few of them here.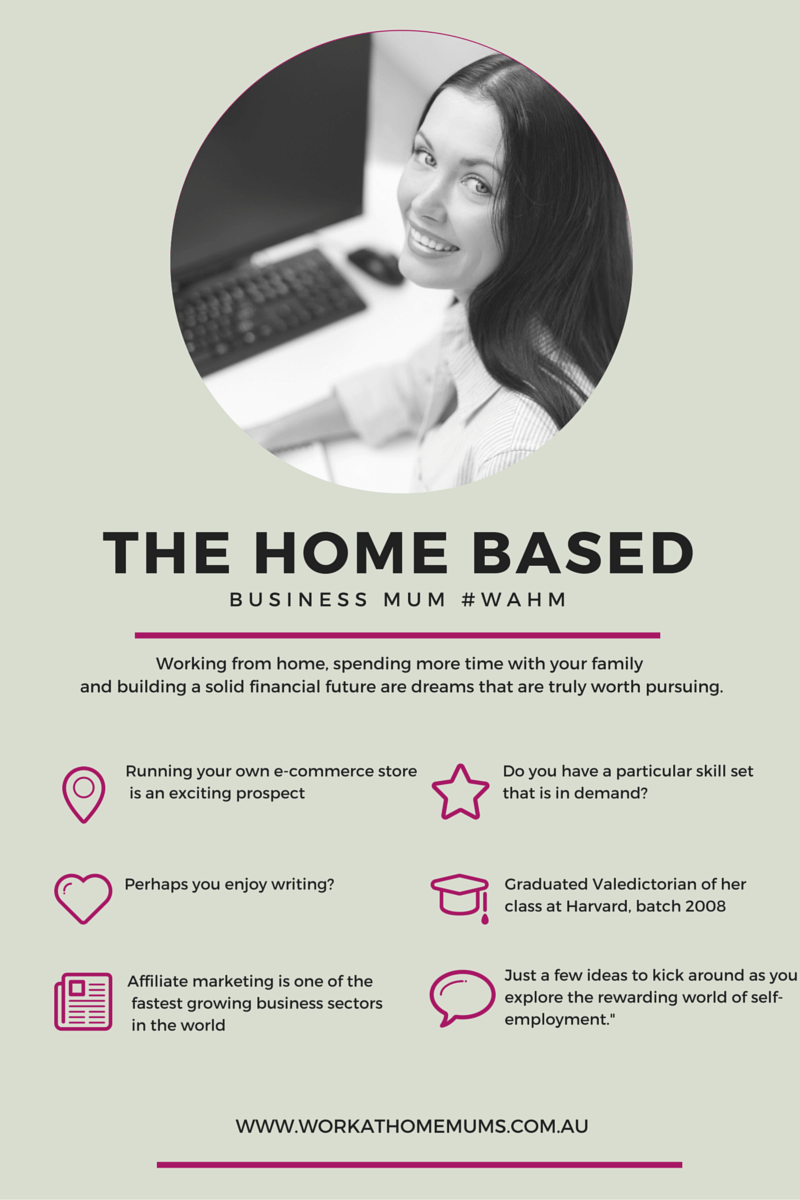 Running your own e-commerce store is an exciting prospect
You could start on a site like eBay or Etsy and build your customer base slowly. Sourcing products for your store can be a tricky prospect that takes some ingenuity. You will need to find a wholesaler, distributor or dropshipper that can supply your store at a good enough price to ensure a profit. If you happen to make handmade goods a site Etsy is perfect to market your products. There are new global Marketplaces popping up every where.
Do you have a particular skill set that is in demand?
You could work as a freelancer, providing service to clients for a fee and working virtually from your home office.  Companies are always searching for skilled web designers, search engine optimisation specialists and social media marketers.  These technical positions only require a computer and a fast internet connection so working from home is a perfect option.
Perhaps you enjoy writing?
Content writers and copywriters are needed every day to fulfill orders for blogs, websites, and sales copy. It can be a challenging profession as you must work with different personalities on a daily basis, but once you have built a portfolio and a client list, it will be smooth sailing. Websites like Return To Work Mums and People Per Hour offer hundreds of opportunities every day.
Affiliate marketing is one of the fastest growing business sectors in the world
It offers people the opportunity to promote products on your website or blog for thousands of different companies on the internet.  A suggestions I am getting great results from are with in the past are  Commission Factory
You are not automatically approved, you have to go through an application process and have a decent amount of traffic on your blog or a good email marketing list. Once you get approved, you will receive your affiliate ID which will be used in your links to their websites to show that you promoted their products. You can place these links in hundreds of places on the web including your Blog, Facebook page, before you that though a Retailer will have special conditions you have to agree to. Please read carefully. If you have your own website you can create pages to promote whatever products you wish to. Every time a product sells that was directed through your link, you earn a commission on that sale. There is little to no startup cost involved in affiliate marketing which makes it an attractive business if you are short on capital.
These ideas may seem like they will bring easy money, however each one of them requires its own measure of hard work.
I don't recall who said it, but I believe this quote is apt:
"If you treat your business like a business, it will pay you like one. If you treat your business like a hobby, it will cost you like one."
These are just a few ideas to kick around as you explore the rewarding world of self-employment.
Working from home, spending more time with your family and building a solid financial future are dreams that are truly worth pursuing.
Resources