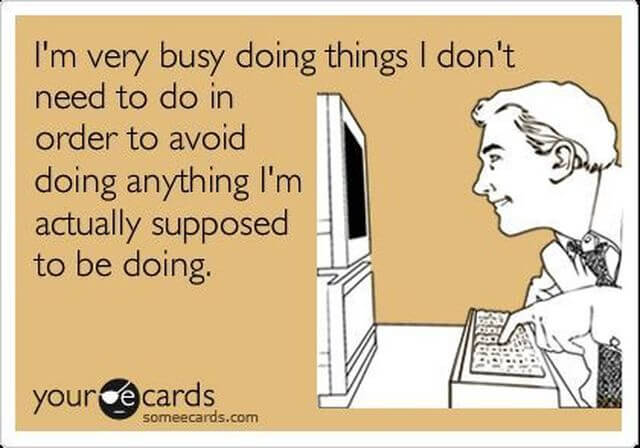 I've done it again, today. Here I am, at 9pm, slugging away with the stuff I swore to myself I would get done in business hours.
I tell people all the time: "Just because I work from home doesn't mean I am available all day, free to meet for coffee or a trip to the park. My work is like ANY OTHER JOB." I'm quite firm about it.
Funny, then, that I find myself in the Pottering Zone in the middle of the day, hooked on the midday news bulletins (as a editor, can I put that down to research? I cannot.), Facebook, eBay, the biscuit tin…
I'll do it later, I tell myself. I have NEVER missed a deadline. It's true, I haven't. That's not to say I haven't been still up at 4am when something is due at 8am, though, typing desperately with a child delightedly spreading yoghurt on my floor and "fixing" my hair into 17 pigtails.
Here, in case this does not ring any bells, is a small insight into what life is like inside the head of a hopeless procrastinator.
7am – rise with children. Figure you need a quiet coffee while said children are eating breakfast.
730am – still coffee-ing, chatting to children. Don't need to leave for school until 815, plenty of time.
8am – frantically make lunches, brush teeth – met as always with some impressive yelling and mighty resistance from daughter – have 10-second shower, slap on concealer, get dressed, turn house into tip in desperate search for shoes and a sock, negotiate daughter out of talking about Pokemon and into sun-safe hat. All in 15 minutes.
830 – morning meetings/interviews. Feel proud of self for planning meetings in mornings so day is off to a productive start, setting the tone for rest of day. Hopefully.
11am – home. Need coffee break after busy morning. Will be no more than 15 minutes.
12.15pm – finish second coffee and sandwich. Compose detailed to-do list. Due to longer break than planned, may need to work for a short time after children are in bed. NO WORRIES. Just need to hang out washing, then READY FOR AFTERNOON.
1.30pm – sit down to computer after hanging out washing, doing online shop, painting nails and catching up with pal on phone. Still have two hours til kid pick-up time. EASY.
2.15 – leave house for school pick up
4pm – stop at shops for food for dinner, kid in tow. Have not had chance to do groceries today because have been working HARD.
5pm- enter dinner, bath, story, homework, bed cycle.
830pm – emerge from cycle slightly battered, need small break before commencing work. Might send a quick email on Facebook too.
8pm – Facebook is great tonight.
10.00pm – commence work. Going well.
2.30pm – bed, until kid arrives in bedroom at 7am all RESTED and RARING TO GO. Smug, that's what she is
Disclaimer: I am aware most work at home mums are NOT like this and are paragons of professionalism. I write on behalf of those tortured souls with good intentions, an easily distracted mind, and an unhealthy reliance upon coffee and vitamin supplements.